Banarasi cuisine… some things are so entwined with their surroundings that they just cannot be understood in their entirety without getting to know the environment that shaped them. And so, before we understand banarasi cuisine, let's look into the ancient city of Varanasi, its life along the Ganga ghats, its unique perspective about death and the iconic eateries which shaped its eating habits.
Subah-e-Benaras
Shaam-e-Awadh
It is said that anybody who wants to see the unique cultural environment of Uttar Pradesh should see the mornings of Varanasi and the evenings of Awadh. Because that is when the two culture centres of Uttar Pradesh come alive. While I cannot visit either right now due the COVID lockdown, I was lucky enough to experience some part of Banarasi cuisine and culture through the food experiences of Varanasi resident Tripuresh Shahi.
Benaras is the city of mornings. One of the oldest cities of the world, its rich culture and complex history developed alongside the banks of Ganga— India's holiest river. And along the river bank developed 88 ghats and innumerable lanes, each dotted with ancient temples and historic houses. Each with its own life and significance- be it the Dhobi ghat where hundreds of washermen wash clothes, the Manikarnika and Harishchandra ghats where hundreds of bodies are cremated everyday, the Dasashwamedh ghat where people bathe in the river, or the Kedarghat where people pray and Lalitaghat where people meditate.
Varanasi is the world's oldest continuously inhabited city, perhaps that is why the city has a unique relationship with death. It understands that death is just a part of life and celebrates them both. This is the city where old people come to die due to the belief that s/he who dies in Kashi goes to heaven. Indeed, Varanasi has a Mukti Bhavan where seriously ailing people go to spend their last days. Life and death go hand in hand in cremation ghats like Manikarnika, and tourists are often surprised to see people working and eating near a cremation site. It isn't uncommon for localiites to go out of their way to join a funeral procession shouting Ram Naam Satya Hai, even if that family is unknown to them. It's called dukh mein shaamil hona (to be there in someone's grief). And if someone dies near the age of 100 years, their funeral procession is followed with drums and dhol as a celebration of a life lived fully. Varanasi, as I said, is a celebration of both life and death.
And with this unique understanding of the world of Varanasi, let's take a look at Banarasi cuisine.
As I said, the story of Banarasi cuisine starts with the morning. It starts at 4 am, the time when most traditional houses of Varanasi wake up. The men of the house get up and walk along the narrow bylanes to reach the Ganga ghats for an early morning bath. The walk to the river is an experience by itself— an experience which awakens all one's senses. It starts from the aroma of dhoop and agarbatti emanating from morning prayers in neighbouring homes and temples. It continues with the medley of traditional music like Thumri, and instruments like tanpura and tabla being practised by musicians of the city. After all, this City of Music has given birth to avante garde musicians like Girijadevi, Pandit Ravishankar and Ustad Bismillah Khan of Thumri, Sitar and Shehnai fame, respectively.
And if this isn't enough to awaken the senses, the sight of the sunrise at the Ganga bank surely is. There is something about the rays of the morning sun which inspire hope everywhere, but when those rays are reflected by the glistening water of the Ganga- the feeling is magical and mystical. And in this environment do the people of Varanasi start their day with bathing in the river, followed by surya pranaam, yoga and meditation on the ghat. Quietly observing the nearby hustle-bustle of boatmen getting their boats ready, or priests training young saffron-clad children in traditional rituals. Gradually waking up to the hustle-bustle of the world, but never letting it get to the peace within. There is some magic in the ghats of the Ganga that all of a sudden all of your problems seem insignificant.
And after feeding the soul one gets up to go and do the next Earthly duty- feeding the body.
Many people stop by nearby small shops on their way back from the ghats or on their way to work. Here, they have the famous food of Banaras- crisp, hot kachoris served with spicy hot potato gravy. The kachoris can be stuffed with lentils, or served plain. This dish is so famous that Varanasi has a whole lane called kachori gali! Ram Bhandar, established in 1887, is one of the iconic joints serving this breakfast dish.
It only makes sense that the sweet-spoken people of Varanasi love sweets! And that is why, apart from kachoris, breakfast in Banarasi cuisine is mostly sweet. Many people love having coal-baked toast with fresh cream on it. This dish is called malai toast. The other popular breakfast of the city is dahi-jalebi which is served only in the mornings. Most people prefer eating it at the shop, while some carry it back home to have it with family. At home, jalebi-dahi can be a standalone breakfast, or be accompanied by the famous homemade Varanasi breakfast dish of chura matar or chaap cutlets. Chura matar is a variation of the North and West Indian poha. In this dish, poha and peas are cooked in a rich medley of ghee, cream and aromatic spices like garam masala, cumin and black pepper.
The next food stop in the day of a typical Varanasi citizen is the chai or paan stall while returning back from work. This is where they have their evening tea or thandai served in clay glasses or kulhads. Along with that, they often have potato-stuffed samosa stuffed with a side of white pea gravy and chutney. Banarasi cuisine is sometimes time-bound. Like the jalebi which is served only in the mornings, the samosa is a delight reserved only for the evenings.
The environment at the evening shops is very different from the morning one. While the morning conversations are a bit hurried, the evening ones are relaxed and friendly. Banarasis are famous for their fakkarmijari, or chilled-out attitude. They are friendly with everyone and can even talk to strangers as if they have known them since ages! The typical phrase to start conversations over a kulhad of tea is 'ka ho guru' or 'ka guru kya haal hai' (Equivalent of 'Hi, how are you?).
One of the most famous tea shops in Varanasi is Pappu chai in Assi Ghat. Both the regular milky tea and milkless lemon tea is famous here. The shop is so popular that a minimum of 20-30 minutes wait is required to get tea from him. This 80 year old shop attracts a lot of crowd from Benaras Hindu University and nearby working professionals and is the spot for some of the most philosophical conversations in Varanasi. Many famous Hindi writers like Kashinath Singh, Balraj Pandey and Chowkiran Yadav have been its loyal patrons.
After the chai comes the famous food of Banaras, the Banarasi pan. It is the star of Banarasi cuisine. Tripuresh says that once a Banarasi puts a pan in his mouth and chews it (called 'mooh mein gholna' or dissolving the paan in the mouth), they become much more laidback and friendlier. The more formal 'ka ho guru' turns into the friendlier 'mardava', and the conversations become more open and relaxed.
And so, armed with paan, start long conversations about everyday happenings and Indian and global politics. These discussions go on for 2-3 hours and can sometimes get heated, but at the end of the day, everything goes back to normal. Yesterday's angry people return back to the same shop the next day to restart a new conversation with ever more friendliness and enthusiasm!
It is interesting to note that the famous Banarasi paan is actually not grown in Banaras. The maghai variety comes from Bihar, the jagannathi variety comes from Odisha, Haldiya from West Bengal while the desi variety comes from Jaunpur. All of these are sold in the world's biggest market for paan leaves called paandariba. Established in 1952, this market sells 90 crore leaves of paan every month. 
After the fresh paan leaves are sold in the paandariba, the next step is to bake them. For this, they are placed in baskets in a furnace-like room within 1-1.5 feet away from burning charcoal. Baking the paan turns it into a lighter shade and also makes it easier to eat. This is a skill which is a specialisation of Varanasi.
The paan leaves then go to the end sellers called panwaaris who make the paan. A variety of paans can be found in Varanasi based on the ingredients one wants stuffed inside it, the most popular being saada and meetha paan. The ingredients include kattha, areca nut, gulkand, slaked lime, etc. The panwaaris are extremely skilled in making individual ingredients and balancing their flavours within the paan, making the banarasi paan so famous that it is mentioned in Mughal scriptures as well! Here's a very interesting video on the Banarasi paan.
Lunch and Dinner in Banarasi Cuisine
The other two meals of the day are fairly simple in Banarasi cuisine— mostly consisting of the usual North Indian fare of one dal, one sabji and rice or rotis. While the surrounding regions of Gorakhpur and Deoria are famous for rice cultivation, particularly the newly GI-tagged Kalanamak rice, the Banaras houses have a balanced diet of rice and roti. Along with the usual lunch, malai lassi is often enjoyed in the afternoons.
The influx of people from West Bengal and Bihar have also influenced the local Banarasi cuisine a lot. Hence, in case of larger social gatherings, Bihari litti chokha dal is often made in the house. This famous dish consists of litti which are baked whole wheat balls stuffed with spicy sattu (ground channa) served with a potato mash and lentil gravy. Non-vegetarian houses also serve chicken with litti. The delectable champaran chicken is a favourite among non-vegetarians in the city.
What is unique about Banarasi cuisine is that every lunch and dinner usually ends with a sweet dessert.
These desserts can be homemade ones like malpua and gujiya. Malpua are cardamom-flavoured fried pancakes dipped in sugar syrup, while gujiya is a khoya-stuffed fried dumpling. Both are made on major festivals like Diwali, but gujiya is made especially during Holi.
Apart from homemade sweets, Varanasi is also famous for its commercial sweets.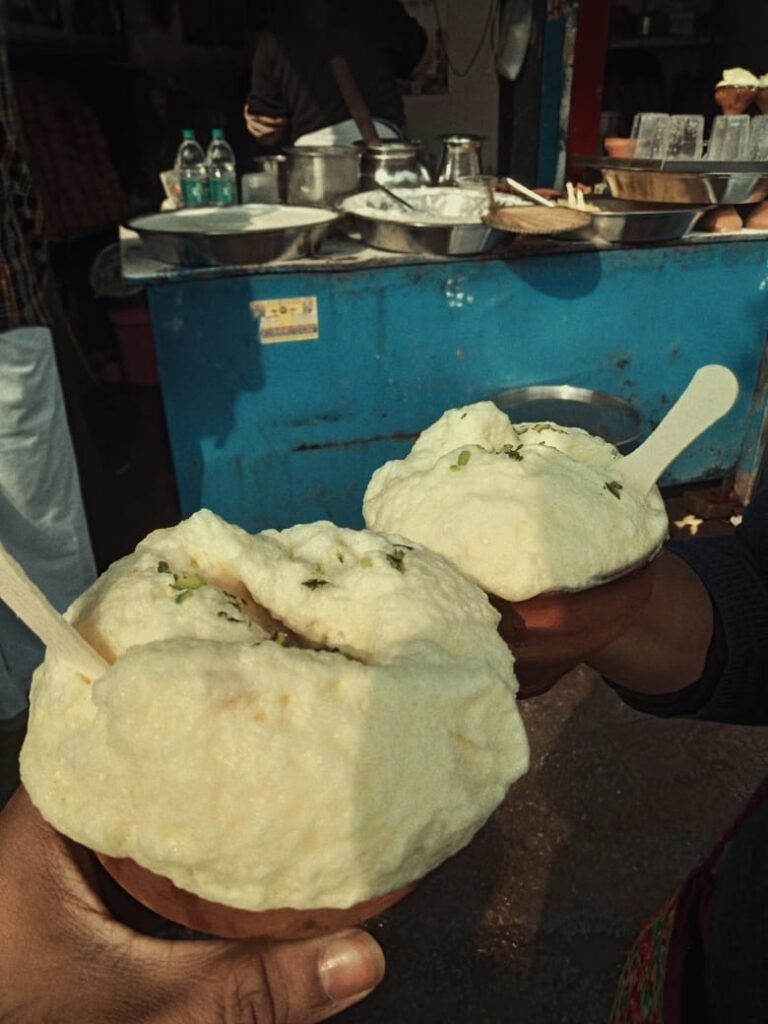 Amongst the most famous of these is Malaiyyo, a dessert which needs around eight hours of cooking. In winters, milk and fresh cream is boiled in a massive iron kadhai and left in the open to cool down. The fresh morning dew mixes with the milk and initiates frothing. This mixture is then churned for three hours in the morning to yield a cloud-like foam. The resulting melt-in-the-mouth foam is called malaiyo and is topped with powdered sugar, cardamom and dry fruits to give you the feel of eating a sweet cloud. The foam is only stable in cold temperatures, and hence the dessert is made early morning in months after November. Authentic malaiyo is not sold post 11am, after which the heat of the sun melts it. The best place to have real Malaiyyo is Chaukhamba or Thatheri Bazaar. A shop called Markandey Sardar Shop near Sri Gopal Mandir has been selling malaiyo here for almost 100 years!
Laung lata is another interesting dessert of the Banarasi cuisine. Also found in West Bengal and Bihar, it is a mixture of khoya and dry fruits encased in a flaky flour dough. It is wrapped up like a parcel and sealed with a clove (laung). The sharp flavour of the clove permeates through the entire parcel of spicy-sugary goodness when it is deep fried and dunked in sugar syrup before being served.
The Indian independence movement is said to be fought in a number of unique ways including street plays and artistic movements. But the sweet-loving city of Benaras decided to fight in its own unique way with desserts!
The original tirangi barfi was called Rashtriya Barfi. It was a three layered dessert of the colors of the Indian flag. The upper layer was made of ground almonds fried in ghee and colored with saffron. The middle layer was made of ground cashew nut. And the bottom green layer was made of pistachios.
This sweet, along with others like Moti Pak, Madan Mohan, Gandhi Gaurav and Jawahar Laddoo, was invented by Mr. Madan Gopal Gupta of Ram Bhandaar (founded in 1850). It is located in Thatheri Bazaar. When it was first invented in 1945, the sweets became a symbol of asking people to join the independence movement. They became so popular that they began to be served in British kitchens and served to scare them away.
Nowadays, due to rising costs of dry fruits, the tirangi barfi is usually made with khoya and colored with coloring agents.
Another elusive dessert from the winters of Varanasi is the palangtod, or malai pag. This dessert consists of layers of thick malai with saffron, sugar syrup and winter spices in between the layers. The specialty of the dessert is the usage of special warm spices, which are said to be so tasty that warm milk is served in the dessert's empty bowl once the customer finishes it, so that the spices are not wasted.
This dish is only available in Varanasi winters because it is so hot in nature that it spoils within three hours in non-winter months. It is also very rarely available and the best place to go for Palangtod is Bhairo sweets in Chowk area.
Another delicate and delicious desserts for Baranasi cuisine is malai puri. Buffalo milk is cooked in big kadhais for a really long time, after which a thick layer of cream (malai) forms on top of it. This layer is carefully separated from the rest of the milk and topped with sugar and dry fruits to make malai puri.
Another product of the Bihari influence in Banarasi cuisine is the Parwal barfi. This sweet consists of a parwal vegetable (pointed gourd) which is deseeded, boiled and soaked in sugar syrup. It is then stuffed with sweet khoya and dry fruits to give rise to a well-balanced sugary-creamy dessert.
Magdal is a lesser-known dessert of Banarasi cuisine. In this dessert, a mix of moong dal and urad dal is ground finely, roasted with ghee, whipped and aerated for unbeatable softness and then mixed with powdered sugar. Since no milk or water is used in the recipe, magdal has a very long shelf life. You can make your own magdal using this recipe.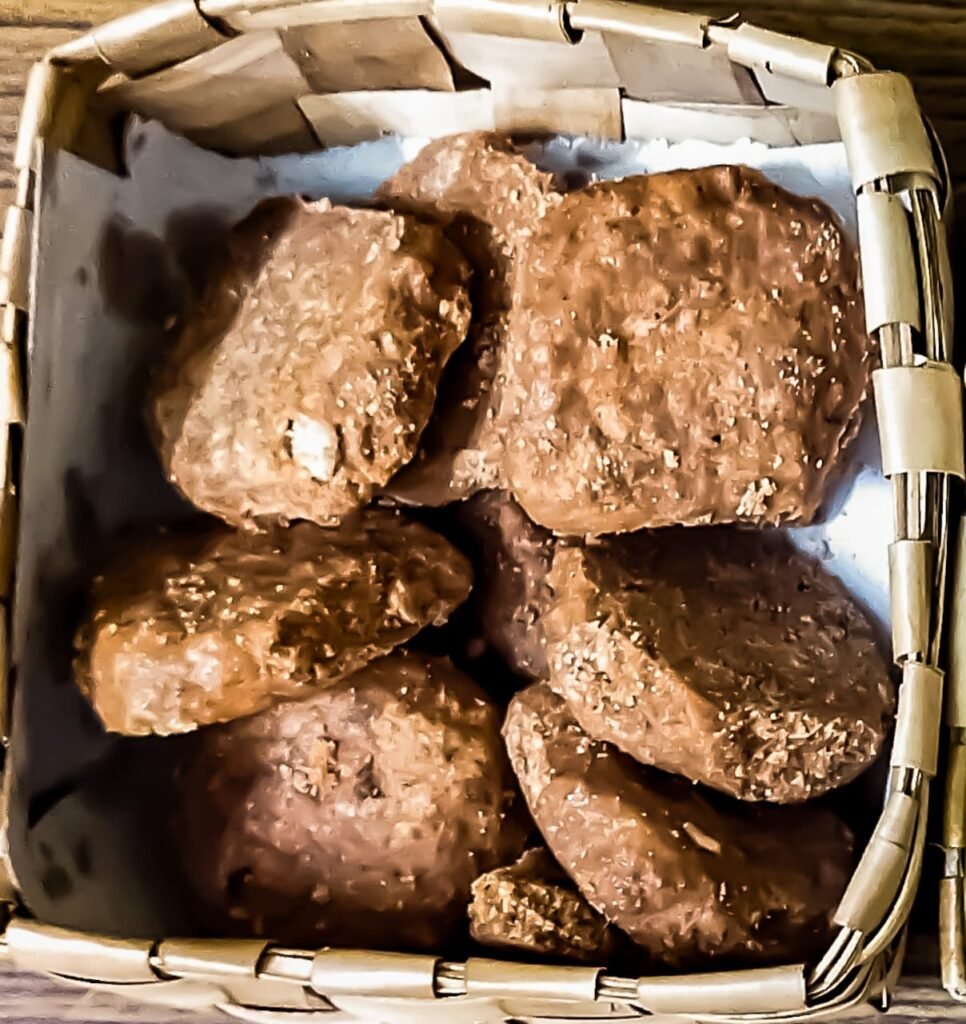 While many temples are known for their prasad, the most famous one is the besan laddoo and lal pede prasad of Sankatmochan Temple.
Banarasi cuisine has its very own special malai kofta. No, this is not your Mughlai dish! This is a delicate dessert made of malai balls served in a clay kulhad full of rabri-type thick "gravy". Gangasagar Sweet Shop in Sarnath is probably the only shop which serves this unique dessert.
Two desserts are very popular in Varanasi weddings and even religious ceremonies. One of them is Bakheer, a rice kheer sweetened with jaggery. The other one is buniya, which is a smaller and more delicate version of boondis found elsewhere in India.
Other sweets of the city include the omnipresent rasmalai, which is one of the famous food in Varanasi. There is also the bhang barfi, the best of which is found in Gowdoliya.
Not all cuisines can boast of fresh ingredients, but the king of fruits makes a valuable addition to Banarasi cuisine. Along with normal fare, Varanasi is also famous for its langra variety of mangoes. It is said that this variety was grown by a lame farmer who ate a mango and planted its seed. The fruit of this tree was so delicious that it started getting cultivated everywhere in Varanasi. The lame farmer was called 'langra' (Hindi for lame) by his neighbours, and that is how the mango variety developed by him got its name. 
The sweet langra mango is often enjoyed in the summer season, while the chausa from neighbouring Bihar is also a seasonal favourite.
Varanasi is probably one of the few places left on Earth which could challenge the entrance of large fast food chains on its soil. Its iconic street food serving traditional banarasi cuisine is so popular amongst the local population that most fast food chains have stayed away from the old Benaras areas due to lack of demand. Following are some of the best street food in Varanasi:
The most famous and best street food in Varanasi is chaat. This includes the super unique dish of Banarasi cuisine- tamatar ki chaat. Tamatar ki chaat is a special chaat made with a spiced base of tomatoes and boiled potato. It is seasoned with a sweet chutney and garnished with crispy namak para (a biscuity mathri). Here's a recipe for tamatar chaat.
Another important chaat item in Varanasi is the Chena Dahi Vada. While dahi vada is usually made with dal, chena dahi vada is made from chena— a product of curdling milk. This chena is kneaded, shaped into balls and cooked in chashni or sugar water. It is then placed in sweetened curd and topped with cumin powder, chaat masala, salt and green coriander. In terms of physical appearance, it looks very similar to rasmalai, but the taste is a unique combination of savoury and sweet.
The last but not the least of Banarasi dishes and chaat items is gol gappe. Gol gappe are served with a boiled white peas mash or curd and chutneys. Dina Chaat Shop is the most famous Banarasi chaat shop in the city.
2. The Winter Specialties
Ghugni made from black channa is a favourite among various winter banarasi dishes. This spicy concoction of boiled black chickpeas with a cooked onion base is topped with lemon and namak para and is often enjoyed with freshly-made steaming chai.
Two other winter specialties are the elusive malaiyo and palangtod that we talked about above.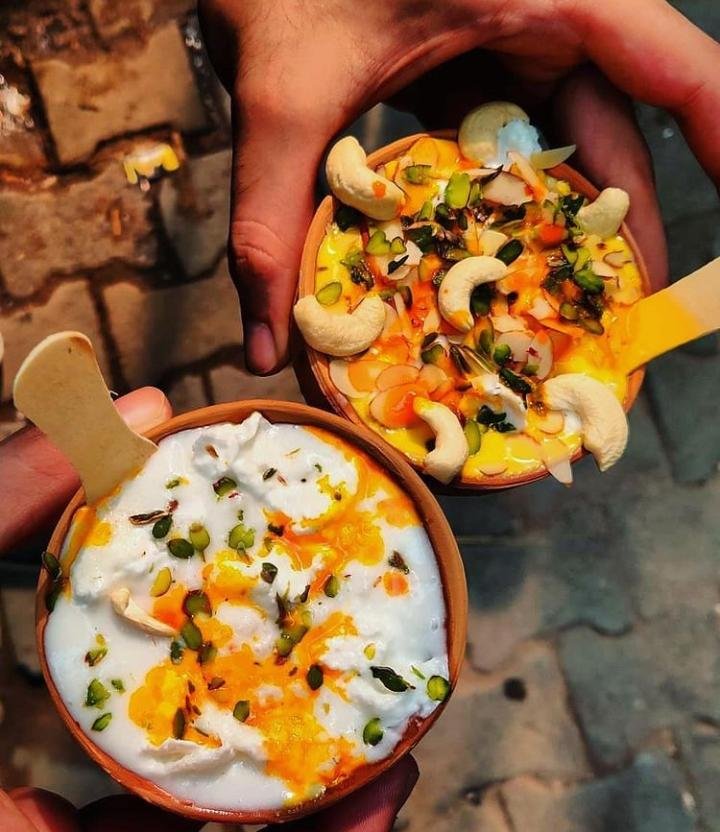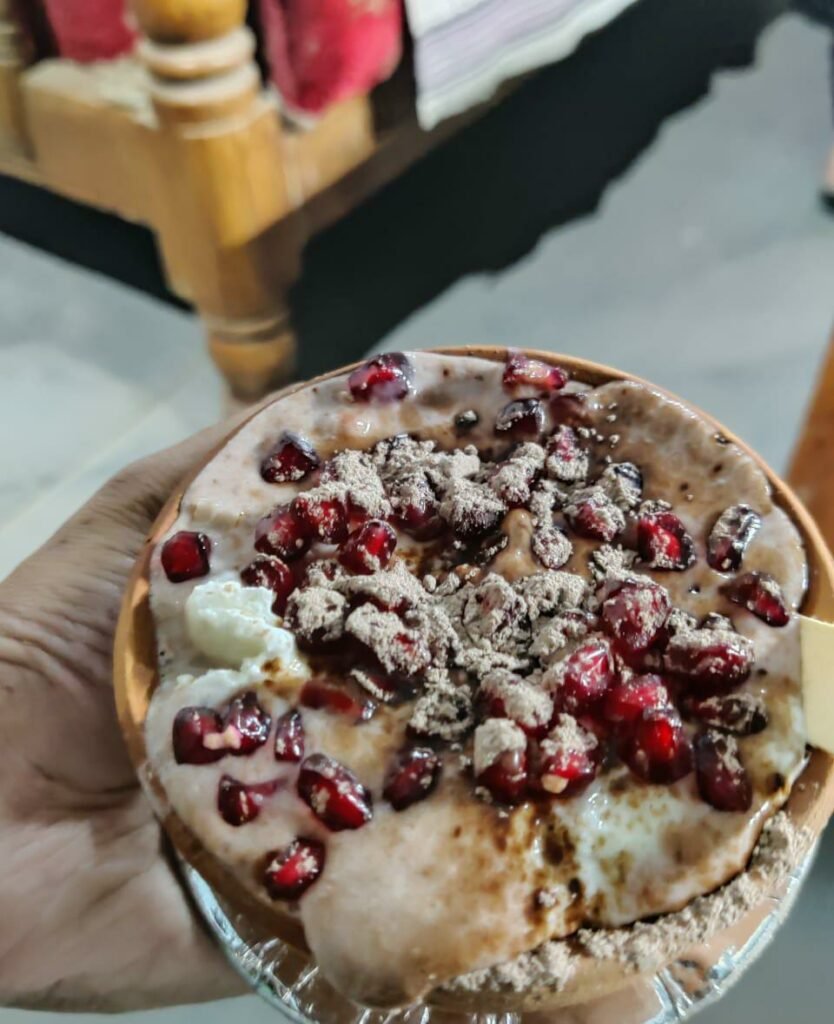 The summer specialties of Banarasi cuisine are high energy, cooling in nature and aid digestion. Thandai and lassi drinks are summer favourites in Varanasi. Thandai is an amazingly cooling and fragrant mix of milk with fennel seeds, sugar, pepper, cardamom and rose petals along with dry fruits. The banarasi lassi is super creamy and is more dessert-like compared to its western counterparts in Punjab. Lassi with bhaang is easily available in Varanasi throughout the year, and gives one a slight light-headedness. Godoliya chowk near Vishwanath temple is famous for lassi and Blue Lassi Shop is said to be the best lassi shop in Varanasi.
4. A Place To Eat Gaalis 🙂
A newer set of eateries are establishing in the Lanka area of BHU (Benaras Hindu University). These include restaurants with continental and Italian cuisines. Among these new restaurants is most amusing part of new Banarasi cuisine- the famous Chachi Ki Dukan. While the shop sells the usual fare of kachori sabji and samosas, it became famous because the female shopkeeper, chachi (Hindi term for wife of father's younger brother) swore a lot at everybody. While chachi is no more, students and loyal patrons still visit the eatery often. It can be said that they eat samosa and kachoris there now, instead of just eating gaalis. 🙂
***
And that brings us to the end of this insight into Banarasi cuisine. While desserts and fried fare form a big part of the cuisine, a bigger part is played by the old iconic shops keeping alive the food traditions of the city, the circuitous bylanes and ghats which make up the unique atmosphere of the morning breakfast and of course, the pristine Ganga which blesses the entire culture with its magnificence.
From The Food Experiences Of: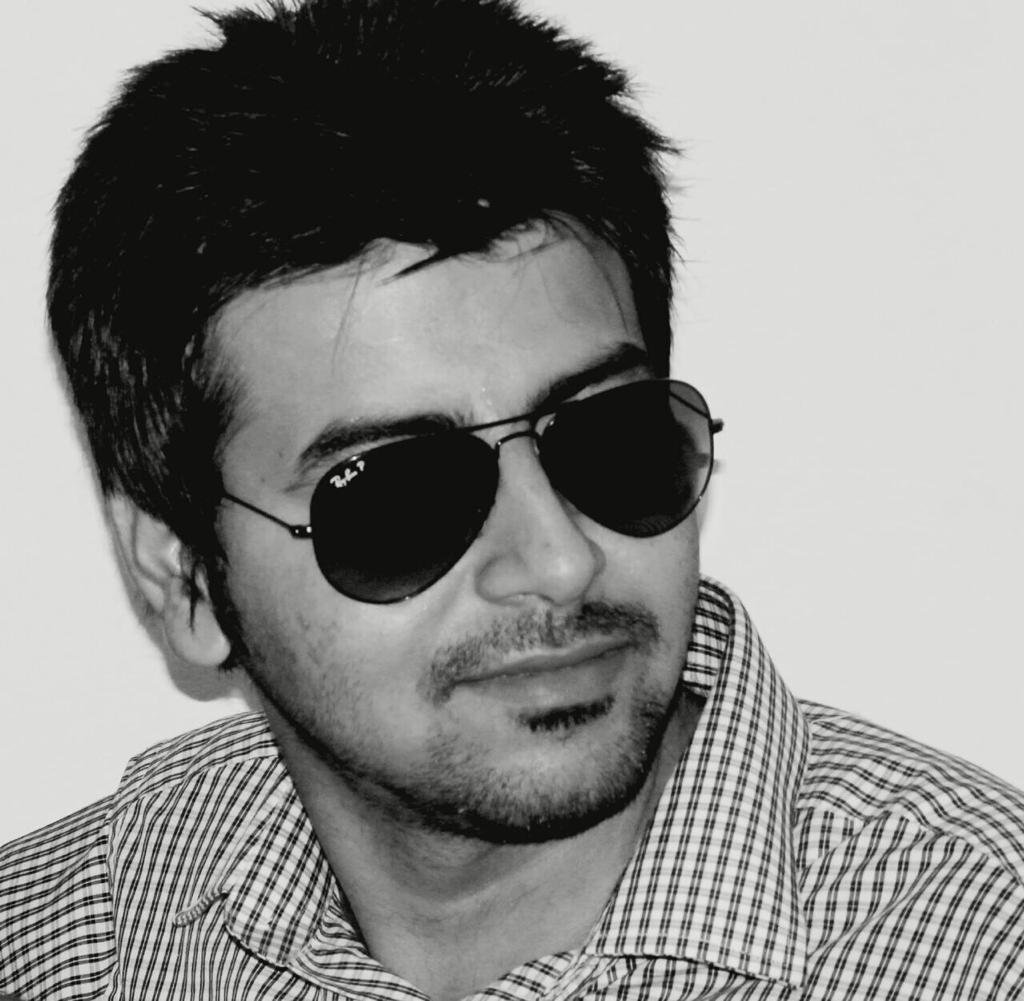 Tripuresh Shahi is an entrepreneur in Varanasi. His family has been in Varanasi since three generations. He loves the serene sunrise and sunsets along the banks of Ganga river and captures their beauty through his photography on his Instagram account.