News alert: Bhubaneshwar artisans of Odisha proved science wrong some centuries again. Walls can whisper and stones can talk. 🙂
This is what you will feel about the temples of Bhubaneshwar. They are made up of stones that tell stories, and sculpted walls with whispers of history.
If you love architecture and history, Bhubaneshwar will spoil you for choice because this City of Temples has seven hundred to one thousand temples within its boundaries.
You and I have neighborhood parks filled with swings and see-saws. The people in Bhubaneshwar have neighborhood parks filled with centuries old temples. Imagine living next to that!
In fact, we were surrounded by art the moment we entered the Odisha airport. There was a panel of stone carving and sand sculptures at the exit gate of the airport and our mind was absolutely blown.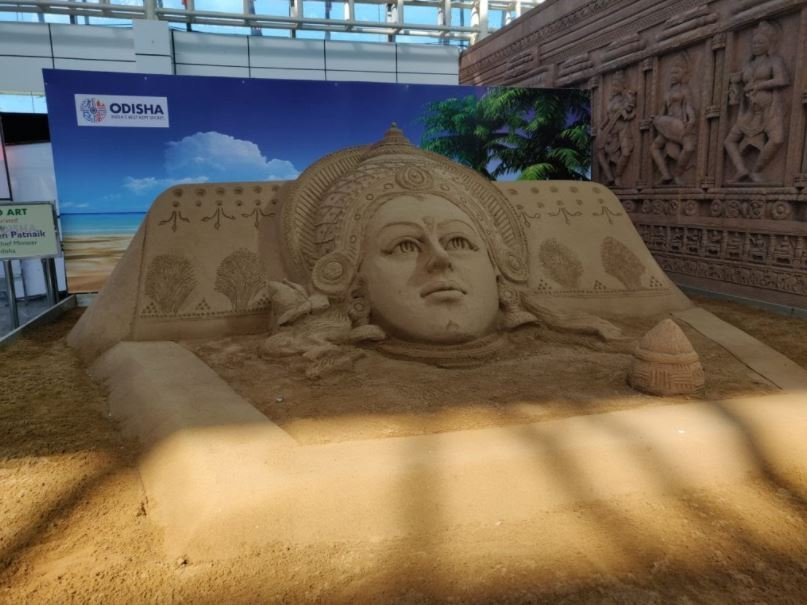 Little did we know that this was nothing compared to the historic visual treats we would be seeing in Odisha.
After getting done with the usual tourist-y duties of coordinating with our pre-booked taxi, checking in to our hotel and having a wonderful lunch, we went to see our first temple in Bhubaneshwar. This was to be Lingaraj temple, the most respected, oldest and largest temple in the city. As we drove through the narrow lanes of this part of Bhubaneshwar and caught the first glimpse of the temple, we squeaked excitedly at its grandeur.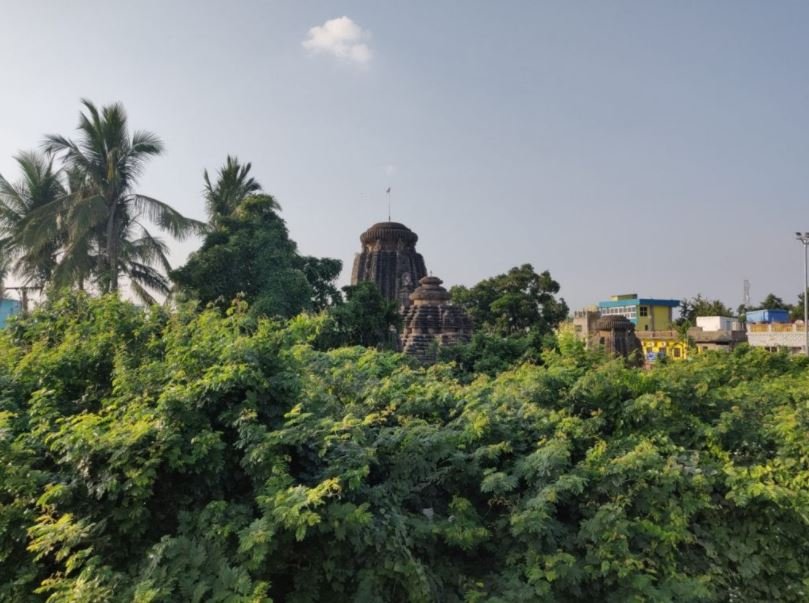 One caveat here: my sister and I love and respect all religions, but are not really religious ourselves. Hence, our interest in the temples of Bhubaneshwar was purely from the perspective of love of art and history. That is why we our squeaky excitement at seeing the Lingaraj temple boundary turned into horror when our driver told us that mobile phones and cameras are not allowed at Lingaraj temple. We would have to leave them in the car.
We barely knew this driver. And the city. Could we trust him?
Frankly, I wanted to turn back and not see the temple altogether, but my sister insisted. So we took the chance. We kept our smartphones in the car and deposited our footwear at the temple gate and then entered inside.
The thing about historical monuments is that you enter a different century and time in history the moment you enter them. I felt the same thing when I entered the temple, feeling the cool smoothness of the deep grey stones below my feet. The stones weathered by time seemed to take us back to the 10th-11th century when the temple was built by the Kalingas.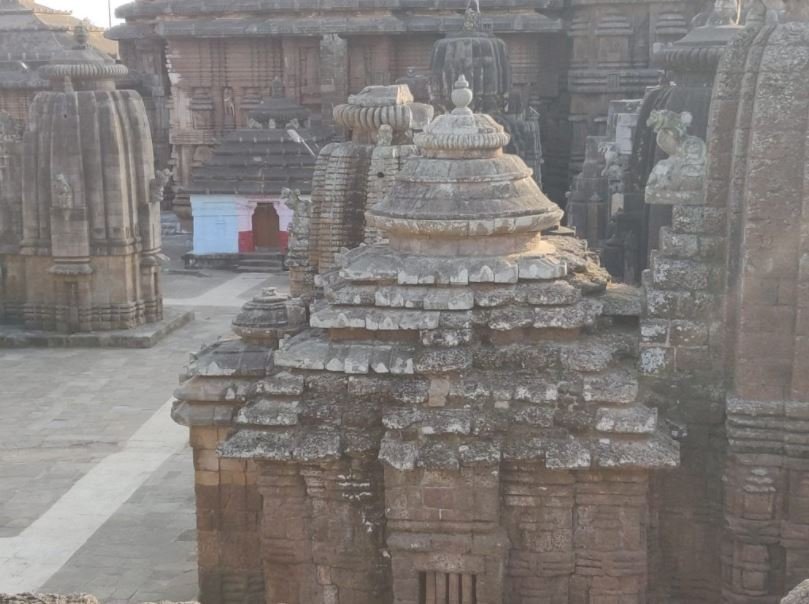 All around us were fifty beautiful shrines containing idols of Harihara (a combined form of Shiva and Vishnu). Each shrine had a square base and a tapering top. The square door at the base showed small shivlings and snakes inside.
And in between, of course, was the major structure of the temple. It contained a vimana (containing the main idol) , jagamohana (assembly hall), natamandira (dance hall) and bhoga-mandapa (hall of offerings). Out of these four structures, the vimana is the highest, and the height of each successive structure decreases, with bhoga-madapa being the lowest structure.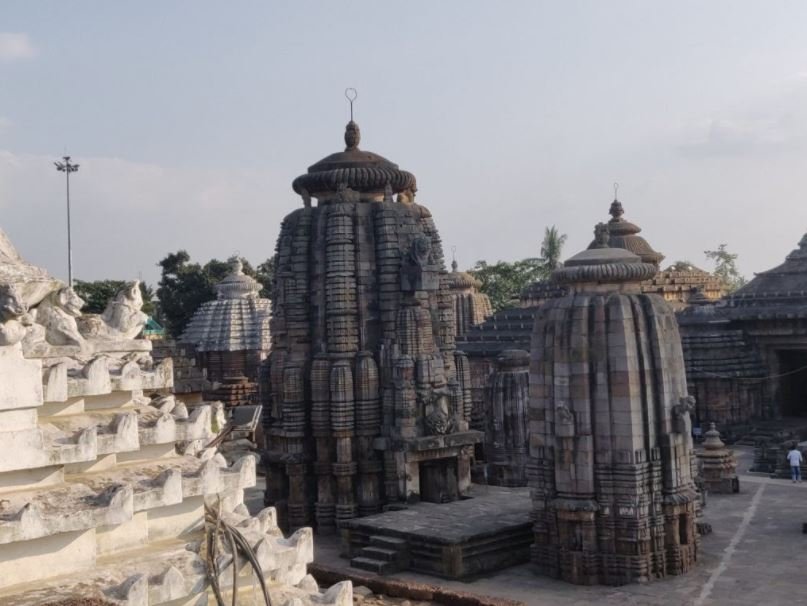 No matter what their height was, each and every structure in the temple was impressive and mysterious at the same time. We walked around, spell-bound, exploring each and every shrine. Just wishing we had a phone to capture this beauty and share it with our loved ones.
We, however, were not able to enjoy the Lingaraj temple in peace much because of the priests coming up every five minutes and asking if we would like to make an offering. From their perspective, I understand that they probably deter tourists in their place of worship. However, we were looking to appreciate the architectural beauty in peace. And that is why, we hurried out.
We almost ran back to the car. I loved Lingaraj temple, but it was marred by the fact that our smartphones were left in a car with a new person in a new city. The moment I saw them safe, I must admit my belief in God increased a little bit. 😀
When we turned to go, disappointed that we couldn't take any pictures, my sister suddenly saw a platform besides the temple where some foreigners were taking pictures of the temple. It turns out that Lingaraj Temple does not allow non-hindus to enter the temple, but they do have a platform outside from where you can see the complex and take in its splendour.
We climbed the stairs of the platform and were greeted by a sweet, smiling foreigner. And then we saw the entirety of the beautiful temple we had just been into, and eagerly started taking pictures. The pictures aren't perfect, and do little justice to the temple's beauty, but here they are.
We then moved on to see the next temples of Bhubaneshwar— the Mukteshwara and Parshurameshwara temples. They offered everything that we missed in our first temple experience— time for peace, solitude and capturing beauty. And don't worry, I have better pictures too.
Continue your Bhubaneshwar Temple Tour here.