As a kid, badi elaichi or black cardamom was that unnecessary thing in the pulao. It needed to be discarded before one accidentally ate it. And god forbid if you did happen to bite into it, the taste would be so strong that one really couldn't taste anything in the pulao after that.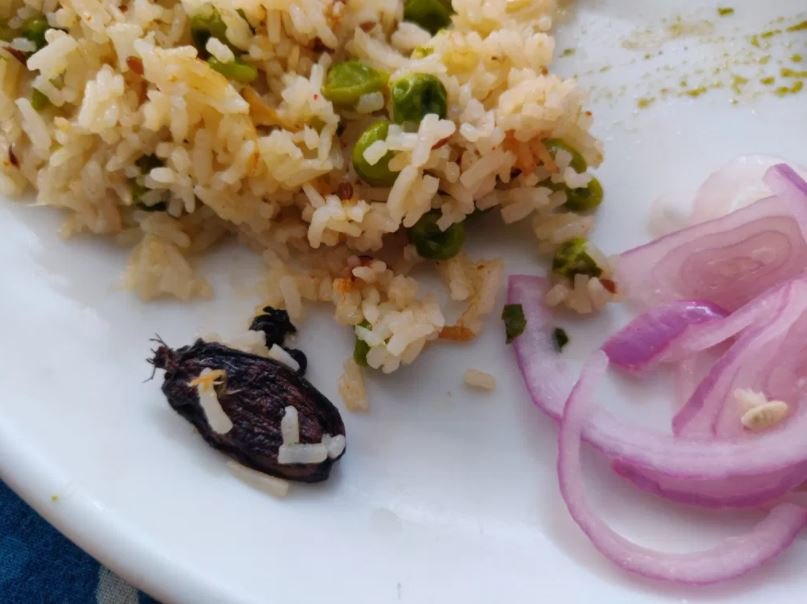 This was true for all khada masala (whole spices). It was almost a ritual to fish them out before digging into the tasty matar ka pulao (pea pilaf). It is only as an adult when one starts cooking, that the true essence of these whole spices sinks in. 
I first fell in love with all these spices the first time I made matar ka pulao by myself. I added black cardamom to the sizzling ghee and the heady aroma that emanated in the kitchen made my head swoon.
The black cardamom is a unique mix of deep smokiness and fresh fruitiness. If you smell and taste it carefully, you would also detect a hint of camphor and menthol-like flavors in it. The 'warming' spice is extremely different in taste than its counterpart, the green cardamom.
Black Cardamom in the Kitchen
The strong and smoky flavors of black cardamom are used in Indian dishes like biryanis and pulaos. The spice is usually used whole and is strong enough to lend flavor to the dish by being fried whole in ghee or oil. However, some recipes also call for black cardamom powder, in which case the seeds inside the pod are crushed and sprinkled into the dish.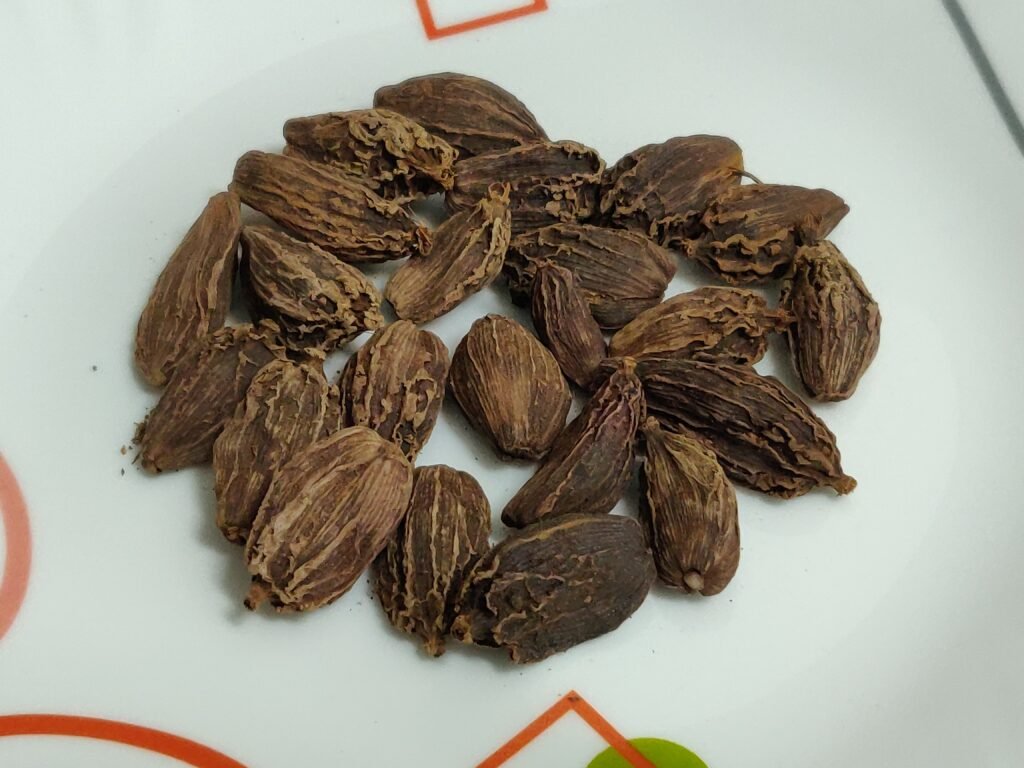 The black cardamom is also a component of the garam masala, and in this form, is a part of many Indian curries, spice rubs, and non-vegetarian gravies.  
Apart from these commonly known uses, different parts of the black cardamom plant are also consumed in the regions they are grown in. For example, the black cardamom leaves are cooked and eaten as saag (greens). The roots are boiled and eaten. The flowers of the plant are used to garnish salads while the pods are steamed and added in pulses.
Black cardamom grows in forests, and who better to find it than the children of the forests themselves? 
The Lepcha tribe of Sikkim is an indigenous tribe of the region and one of the oldest inhabitants of India. They are believed to be among the first to use large cardamom in their medicines as well as an aromatic wild fruit. (Sharma E et al, 2000, Sharma G et al, 2009). Soon, the cardamom forests underwent ownership drives and the plant came to be domesticated in the process. 
Where Did They Come From?
Black cardamom has two main species— amomum subulatum which grows Nepal and India, and amomum tsao-ko which grows in China. The Indo-Nepal species is shorter than the elongated Chinese pods.
Apart from these, there are also some minor varieties found in Africa, including the Afra­momum found in Mada­gascar, Somalia, and Cameroon, and the pungent Grains of Para­dise, from West Africa.
Black cardamom grows in mountainous areas with steep slopes. This helps it avoid waterlogged conditions that inhibit its growth. It typically grows in cold humid conditions under the shade of trees at altitudes between 800-2000 meters above mean sea level. It requires average precipitation of 3000-3500 mm spread over about 200 days and a temperature range of 6-30 degrees C.
With these conditions in mind, the regions spreading from the Himalayas to Southern China are good hosts to these plants. In India, black cardamom is cultivated in Sikkim, Darjeeling, Uttarakhand, and some Northeastern states. More than 90 percent of India's harvest is produced in Sikkim where it is called thulu elaichi. The slope, climate, and nitrogen and organic matter-rich soil provide the best possible environment for the plant to thrive in.
Large cardamom is an important crop in both the culinary and economic sense. It generates Rs. 40-50 crore revenue for Sikkim annually. A single farmer can earn Rs. 25000 to 30000 from one hectare of large cardamom plantation.
The seeds contain 3% essential oil rich in cineole making it useful in kitchens as a flavoring agent and spice. In fact, it is also used as a flavoring agent in colas, biscuits, liquors, confectioneries, etc. Apart from food, the spice is also used in Ayurvedic and Unani medicines as well as perfumes. 
The medicinal properties of the pods range from the prevention of oral infections, curing of loss of appetite, bronchitis, colic, fatigue to stress. Black Cardamom seeds have anti-inflammatory properties and help in relieving muscle spasms, lung congestion, eyelid inflammation, digestive disorders, etc. 
The Spices Board is working to promote the cultivation of large cardamom in Sikkim. Its research wing Indian Cardamom Research Institute (ICRI) was established in 1978 in Kerala. 
To undertake research on Large Cardamom, a Regional Research Station of the above has been established during 1981 at Gangtok, Sikkim.
These institutes have been working towards various initiatives towards process modernization as well as germplasm conservation of the black cardamom plant.
Traditional Practices of Large Cardamom in Sikkim and Darjeeling, Bharat Gudade, P. Chhetri, U Gupta, T N Deka
Large Cardamom Cultivation-A Review, Sujit Sarkar, Natasha Gurung, Dipak Nayak, Ramu Meena, and Bijoy Singh, Journal of Agricultural Engineering and Food Technology, Volume 4, Issue 1; January-March, 2017 pp. 78-81