This is a story of how we found the wizard of wood carving in a nondescript bylane of India.
There are two astounding things about the bylanes of India. One, that no matter where you go, you will always find friendly souls who will guide you to your destination. And two, you never know in which corner and turn you will find a gem of a talent.
This theory of mine came true once again in the bylanes of Hapur, where we had undertaken a quest to find the house of Mr. Abshar Hussain, the national award winner for wood carving or wooden naqqashi. The journey was delayed due to a heavy downpour, but nevertheless, the gleaming streets, refreshing greenery, and cool air of suburban Uttar Pradesh filled our hearts with joy as we raced towards Hapur to meet Absharji.
The drive was interesting in the way that the urbanisation and glass buildings slowly gave way to green fields and forests. And finally, the small town of Hapur gradually appeared with a quaint little railway crossing marking our entry into Absharji's colony. As we entered the quiet little lanes, we were met by curious glances.
It has always been our experience that Google Maps, the saviour of travellers like us, unfortunately is no longer of use in the typical Indian communities of winding lanes and bylanes. However, where Google Maps gives in, the community helps out. We called up Absharji's son Haider, and asked him to talk to a passerby and guide us. The passerby's face, so doubtful and curious till now, lit up when he said, "Oh! Hussain bhai ke yahan jana hai?", and not only pointed us towards the correct house, but actually walked us to it!
The Wizard of Wood Carving
We were met warmly by Haider, Absharji's young son and soon started talking about Absharji's work over some hot tea and deliciously sweet biscuits— traditional Indian life savers in monsoons! Within fifteen minutes Absharji himself walked in.
When you meet someone who is a national awardee, you cannot help but feel a little bit awed. However, the one big thing common between all the national award-winning artisans  that we have met till now is the astounding fact of how humble they are. Absharji was no exception to this. He actually sat with us for around four hours to tell us his story.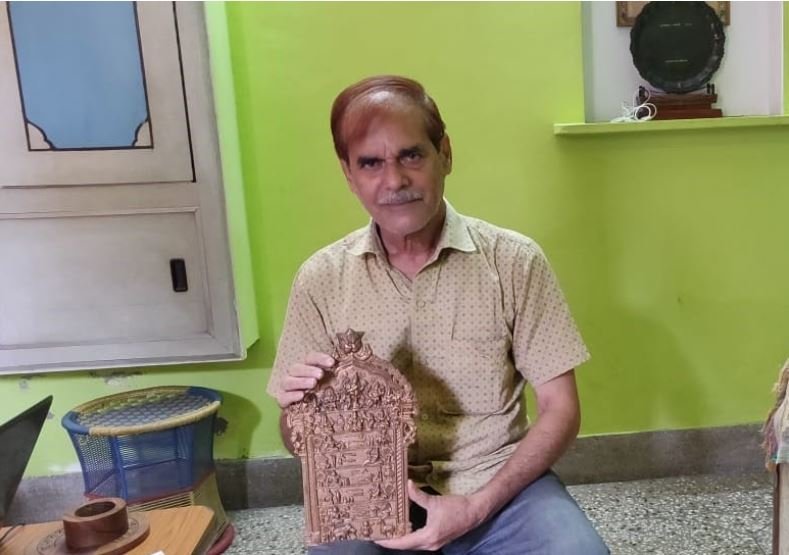 He has been practising wood carving or wooden naqqashi for more than four decades now. At first, he used to work exclusively to carve wooden blocks for hand-printing. He showed us an old block he had kept safely, and I was thrilled to see its fine work. I don't know how beautiful the motifs designed by this wooden block were, but the piece in itself was a thing of beauty!
However, time changes circumstances, and the man who won a national award for naqqashi-work on wooden blocks soon had to give it up because the usage of wooden blocks had dwindled with the advent of screen-printing. However, he soon adapted his craft to different handicrafts, and focused on utility handicrafts which meet the needs of the modern generation. And although he has moved on from wooden hand-blocks, Absharji maintains true to his passion by including his distinctive style of chiselled-hand carving and hand-block motifs in most of his handicrafts.
An Artisan with a Difference
Absharji is the same as his fellow national award winners in terms of how humble he is, however, there are two pretty distinctive things about him.
One, he is a great conversationalist! He can talk to you about everything from handicrafts to American politics! He is full of interesting stories from his childhood, especially about the poignant story about his father, also a wood-work artisan, who stayed in Chandni Chowk during the time of partition. When he witnessed the horrors the partition brought upon his friends and neighbours, his father was heartbroken and left Delhi to go back to his native Firozabad. It was a financial loss to him, but in his heart he knew that he would never be able to live in Delhi again because of the terrible memories of the partition. In later stages of his life, fellow-colleagues called him to Hapur, so he decided to shift to this house where his next two generations now live.
Two, Absharji is one of the few artisans who adapted his work and craft with times and kept it relevant. He is also one of the few artisans who sent his son to do MBA, and Haider now helps his father in his work, especially in creating a brandname and marketing his products!
We ended our visit with Absharji and Haider with a request for photographs. This was when Absharji showed us his beautiful tamrapatra, a copper plate containin figures of Vishwakarma, the Celestial Artist. This was awarded to him as part of his National Award.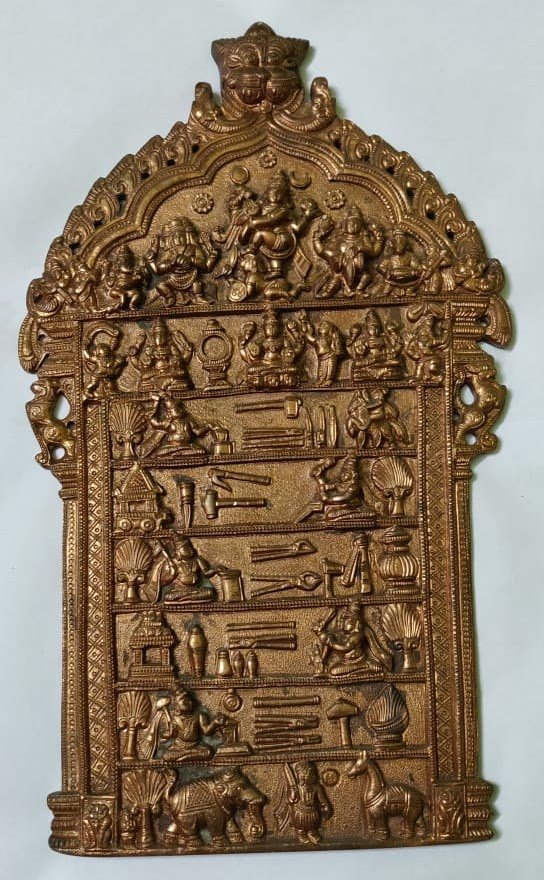 Here are some of Absharji's wood carving works: