What are the types of chillies in India? Well, before finding that out, do make sure that you have read about the basics of chilli.
Done? Let's go on then. While India is not the birthplace of chillies, it does have an astounding variety of chillies spread across its vast land. The chillies range from the highly coloured but mild Kashmiri chilli of North India to the tiny packets of intense heat in North-east India. The state of Goa by itself has around 15 varieties of chillies, an endowment of its historical past as the entry point to Portuguese merchants and traders who brought in chillies from South America. Similarly, the state of Andhra Pradesh is also famous for its Guntur Chillies. Several other interesting varieties are produced in central and southern Indian states.
Let's take a look at them.
Types of Chillies in India
Out of all the types of chillies in India, the extremely hot ones like the infamous Bhut jolokia and Dhani belong to the North-East of India.
1) Bhut Jolokia: Assam, Nagaland and Manipur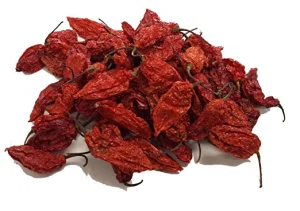 Disguised like fresh little bright red fruits, are one of the hottest chillies of the world- the Naga Bhut Jolokia chilli. Bhut Jolokia chilli, meaning ghost chilli in Assamese, is a cross between the species Capsicum chinense and Capsicum frutescens. It is also called poison chilli, or Bih Jolokia in Assam and umorok/oomorok (tree chilli) in Manipur. They are grown mostly in Assam, Nagaland and Manipur and are used in pickles, curries and pastes in many North-eastern states. Indeed, Naga Bhut Jolokia chilli is the main star of the famous Naga Smoked Pork dish. 
Unlike most chillies, bhut jolokia have the heat-producing molecules capsaicin in both the placenta around the seeds and throughout the fruit, rather than just in the placenta like most other chillies. The chillies are so potent that one is advised to use gloves while handling them, and just a dip of chilli into curry is enough heat for normal chilli-eaters like us! In fact, the heat is so high that it is smeared on farm fences to ward off elephants and DRDO was also working on chilli bombs using these chillies! 
2) Bird's Eye Chilli: Meghalaya, Assam (and Kerala in South India)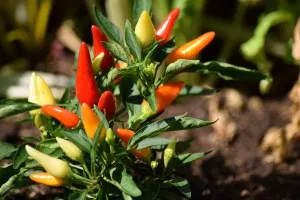 Bird's eye chilli is known as Dhani is Meghalaya and Assam, and Kanthari Mulaku in Kerala. These fiery little chillies with curved tapering end come in the hues of red, yellow, black and even purple. While growing, their flowers face down, but the chillies face upwards. Perhaps this is why birds love to pick the ripe chilli, a fact after which it is named. The bird black drongo is one of the main birds in Kerala which feast upon this chilli. Botanically, this belongs to the Capsicum annuum family.
ASTA Color Value: 41.7
Capsaicin: 0.59%
3) Naga Morich: Nagaland and Manipur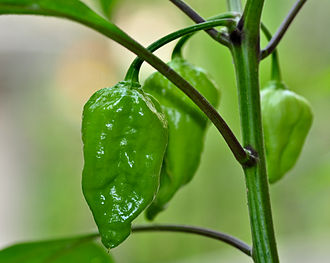 Naga chilli is closely related to Bhut Jolokia and is a cross between Capsicum chinense and Capsicum frutescens species. It is grown especially in Manipur and Nagaland. Naga chilli is extremely hot and was one of the hottest chillies in the world. Along with its heat, Naga chilli has a tart flavour with undertones of sweetness. 
SHU: 10,00,000 – 15,98,227
4) Kashmiri Lal Mirch: Jammu & Kashmir and Himachal Pradesh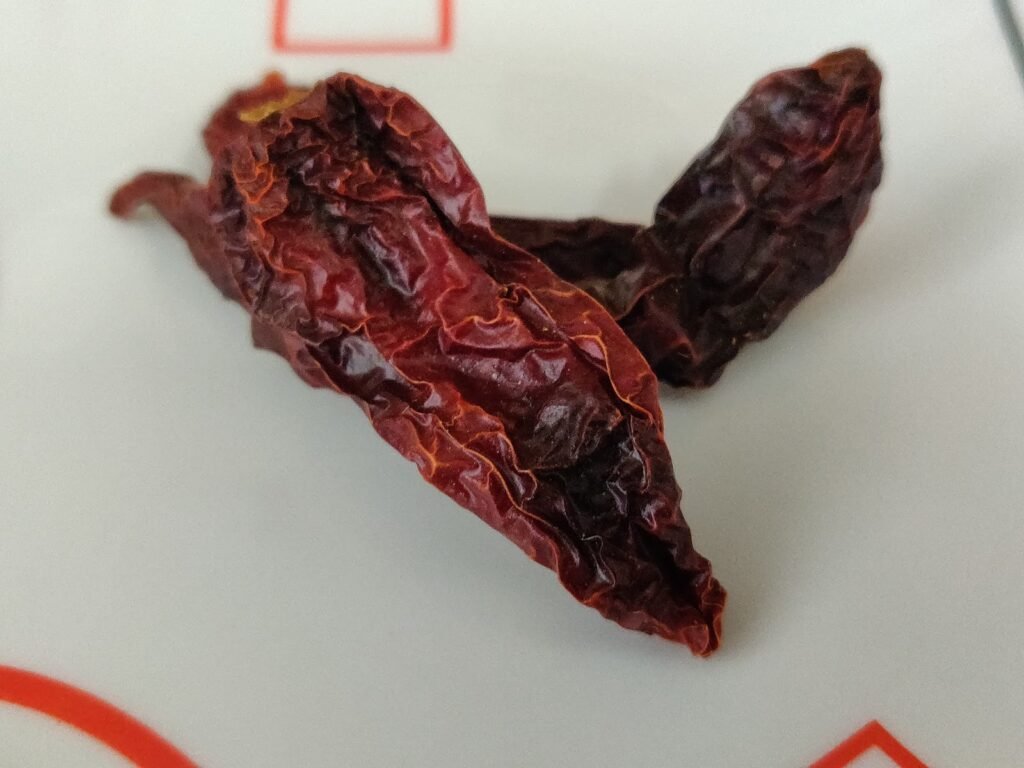 Painting the town red, or at least the town's curries is Kashmiri Lal Mirch. These bright red and fleshy chillies are usually thick and broad. They are used very widely across India to add red colour to our dishes, along with a distinctive mild heat. Kashmiri lal mirch is mostly used in powdered form to serve its purpose as a food colour agent. The most famous dish using this chilli is the lip-smacking Roghan Josh.
ASTA Color Value: 54.1
Capsaicin: 0.325%
5) Mathania Chillies: Rajasthan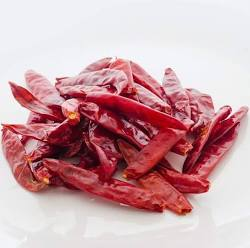 Ever tasted the iconic dish called laal maas? I have, even though I don't eat red meat. But the smell of the curry was too good to resist. The curry owes its flavour to the mathania red chilli. For vegetarians, the kairsangri recipe also utilises the unique sharpness of the chilli. This chilli belongs to a town called Mathania in Rajasthan's Jodhpur district. In spite of its rustic distinctive taste and low heat, unfortunately, as per the Central Arid Zone Research Institute this chilli is endangered right now due to very few takers for it.
6) Longi Chillies: Rajasthan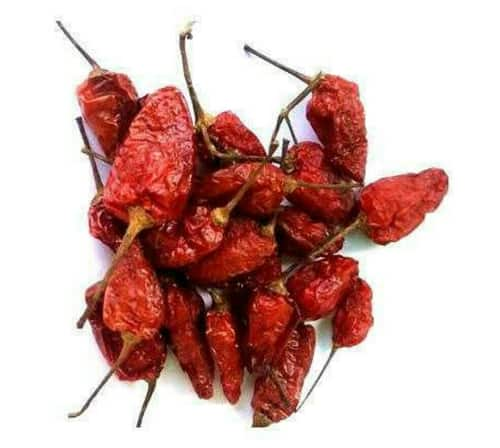 Very few people in India would have not had the Bikaneri Bhujia. If you haven't, do try it, and if you have, give a big hand to the chilli which gives Bikaneri Bhujia it's distinctive latent heat! This sharp chilli comes from the land of Bikaner, Rajasthan and is used in its popular bhujia and other namkeens. 
7) Jwala Chillies: Gujarat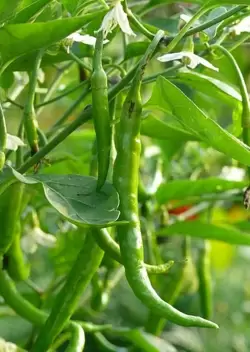 Jwala, meaning volcano, is one of the most popular chillies in India and is also grown all over India. It is initially green in colour and ripens to a bright red with time. In shape they are a little wrinkly and have pointed tapered ending, resembling fingers. This resemblance gives them the name of 'Finger hot peppers'. These chillis are hot and are frequently used for both their flavour and heat.   
20,000 to 30,000 SHU
Capsaicin: 0.40%
8) Bhavnagari Chillies: Gujarat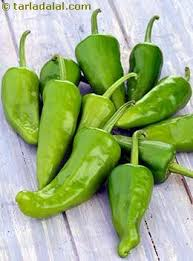 Another beautiful variety of chillies from Gujarat is the super thick-skinned and plump bhavnagari chilli. This chilli has very little pungency and heat. This makes it perfect for pickling, or stuffing with besan or even fried and serving with famous Gujarati snacks like gathiya. Upon ripening, it turns red, and becomes my favourite stuffed red chilli pickle! 😉
The uniquely shaped boriya mirch looks very similar to the ber fruits found in the Aravalli region and hence derives its name from there. These deep red berry-like chillies turn a translucent red-brown colour upon drying and make a rattling sound due to the movement of dried seeds inside them. These chillies are extremely hot and are commonly used in dals and kadhis as a tadka.
10) Reshampatti Red Chilli: Gujarat
11) Madhya Pradesh Sannam Chilli: Madhya Pradesh
The titimiti is used in combination with the byadgi chilli (also grown in parts of Goa) to spice up and colour local dishes. These short chillis have a bright orange-red colour and lend their taste to the famous Goan prawn curry.
The Aldona chilli had a deep red, almost black coloured thick skin. It is broad and tapering and has a rounded end. This chilli is mostly used in roasts, and in combination with another local chilli called button chilli, also used in curries.
14) Canacona/Khola Chilli: Goa
Canacona chilli is Goa's star chilli which has recently been given a GI tag. This brilliantly red and mildly pungent chilli is grown on the slopes of Canacona and in the villages of Khola, Cotigao, Gaondogrem, Sristhal and Barcem. Its quality is maintained due to the local soil and climate of the region.
The tarvoti or tarvati chilli is a thin long chilli, also known as the Piri Piri, or Portugaal chilli. Locally, it is also named as lavngi mirsang or jalgi mirsang. This chilli is a direct connection to Goa's Portuguese past and is used in making papads and peri-peri (meaning pepper-pepper in the Swahili language). 
Chicken Xacuti is the dish of Goa, Harmal chilli is the chilli of Chicken Xacuti! and Goa's Harmal Chilli is a GI tagged chilli, grown in its unique way by most households in Harnam village. The chilli is well-known for its reddish-brown colour and highly pungent taste. The outer skin is thin with a large number of seeds. The chilli is hence perfect for making chilli powder. It also has a long shelf life and does not attract household pests.
Pungency: 28,200 SHU
ASTA Color Value:  48.8 
Capsaicin: 0.18%
17) Sankeshwari Chilli: Maharashtra
Ever had a Kolhapuri dish? If you haven't, make sure you do with a glass of water to your side. The cuisine is extremely spicy, and all thanks to its neighbouring town Sankeshwar which produces the Sankeshwari chilli. This thin chilly packs quite a bomb of heat and a burst of orange colour. It is most often used in powdered form and added to local dishes to make them spa-eee-cyyy! 
18) Lavangi Chilli: Maharashtra
Lavangi chilli is another hot chilli used in the Kolhapuri cuisine. Often used with the Sankeshwari chilli, it is ground to a powdered form and used to heat up the local dishes. 
19) Bhiwapur Chilli: Maharashtra
The Bhiwapur chilli produced near Nagpur area has earned a GI tag chilli for its uniqueness. Its thick outer covering increases its shelf life to 1.5-2 years and reduces chances of breakage. The deep red chilli is a good colouring agent and its oleoresin is used to make lipsticks and nail polishes. It has medium heat and pungency and is the main ingredient in the popular spicy red chilli chutney called 'Varhadi Thecha' in Maharashtra. Best of all, it performs all the functions of heat and flavour without causing acidity like in the case of a lot of red chillies. Botanically, this chilli belongs to the Capsicum annum family.
SHU: 20,000 SHU
ASTA Color Value: 36.3 
Capsaicin: 0.12% – 0.87%
20) Nagpur Chilli: Maharashtra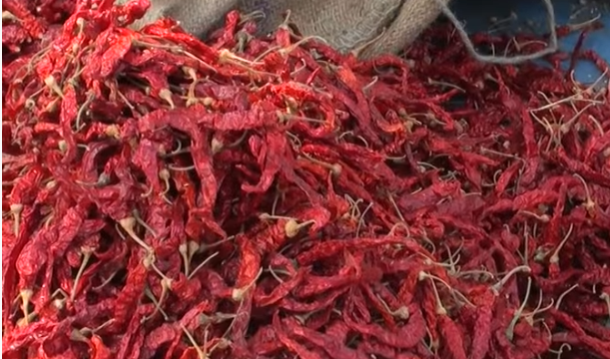 Adding spice to Nagpur's cuisine is the Nagpur Chilli. This deep red long tapering chilli is the secret behind the spiciness of Marathi cuisine!
21) Nalchetti Chilli: Maharashtra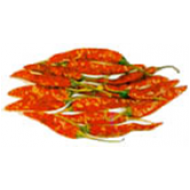 A neighbour of our Nagpur chilli, grown in the same city, is the Nalchetti chilli. This chilli is also red in colour and extremely pungent in taste.
ASTA Color Value: 77.03
Capsaicin: 0.12%
22) Sangli Sannam: Maharashtra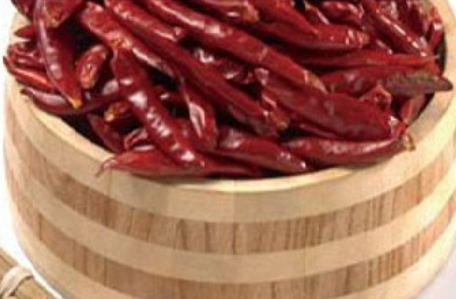 Another Sannam variety is the Sangli Sannam. This chilli is 6-8 cms size and a deep red in colour.  They are medium in everything, with medium pungency and colour. 
Pungency: 18,000 SHU – 22,000 SHU. 
ASTA colour value: 73.55 ASTA
Capsaicin: 0.22%
23) Ellaichipur Sannam: Maharashtra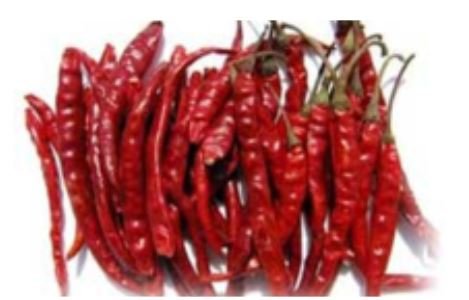 The last of the Sannam family (at least in this blog) is the Ellachipur Sannam from Amravathi, Maharashtra. Like the rest of their Sannam family, these chillies are thin, tapering and reddish in colour. It is pretty hot and pungent.
ASTA colour value: 70.40 ASTA
Capsaicin: 0.2%.
24) Sattur Chilli: Tamil Nadu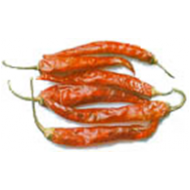 The Sattur chilli of Tamil Nadu is thick-skinned and has a pungent and spicy taste.
ASTA Color Value: 59.1
Capsaicin value: 0.24%
25) Kanthari White: Tamil Nadu
Perhaps the most beautiful and rare chillies and the one I want to see myself one day is the Kanthari White chilli of Kochi, Tamil Nadu. This chilli is ivory white in colour, perhaps due to lack of chlorophyll pigment. Upon ripening, it turns into a bright red. Taste-wise, Kanthari chilli is mildly spicy and is soaked in salty yoghurt and sun-dried before being consumed as a condiment. Kanthari chilli is a type of bird's eye chilli. 
ASTA Color Value: 2.96
Capsaicin: 0.50%
26) Pandi Chilli: Tamil Nadu
Pandi Chilli grows across South India and is widely used in local curries, podis, etc. Its spice level is medium and its colourant capacity is very less. In appearance, pandi is a small, pale red chilli with a shiny skin
27) Mundu/Ramnad Mundu: Tamil Nadu and Andhra Pradesh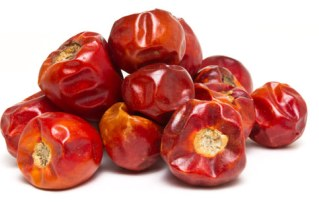 These dark, shiny and reddish-yellow chillies have a unique shape among the otherwise elongated chillis. They are known for their great flavour and aroma and are often used as condiments, especially as part of Maharastra's Goda masala. They are also used for tempering everyday dishes like curd rice. It is a big part of the Chettinad cuisine.
Pungency: 10,000 – 30,000 SHU
ASTA color value: 32.95
Capsaicin: 0.17%
28) Tadapally Chilli: Tamil Nadu and Andhra Pradesh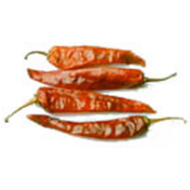 These dark, shiny and reddish-yellow chillies have a unique shape among the otherwise elongated chillis. They are known for their great flavour and aroma and are often used as condiments, especially as part of Maharastra's Goda masala. They are also used for tempering everyday dishes like curd rice. It is a big part of the Chettinad cuisine.
Pungency: 10,000 – 30,000 SHU
ASTA color value: 32.95
Capsaicin: 0.17%
29) Tomato Chilli/Warangal Chappatta: Telangana and Andhra Pradesh
Warangal Chappatta or Tomato Red Chilli is another distinctive-looking red chilli from Warangal region. It is short, mildly spicy but has a deep red colour. Due to these qualities, it is used as a colouring agent.
Pungency: 8,000 SHU
ASTA color value: 125.26
Capsaicin: 0.17%
30) Madras Pari: Tamil Nadu and Andhra Pradesh
The Madras Pari chilli is a deep red chilli grown in Nellore region of Andhra Pradesh.
ASTA Color Value: 73.82
Capsaicin – 0.206%
31) Hindupur Chilli: Andhra Pradesh
Another chilli from Andhra Pradesh is the Hindupur chilli. It is pure red in colour and hot and extremely pungent in taste.
ASTA Color Value: 33
Capsaicin: 0.24%
32) Guntur Sannam: Andhra Pradesh
Guntur Sannam is related to the Capsicum chinense species. Guntur Sannam chilli is the star chilli of Andhra Pradesh, responsible for the decadently spicy food of the state. This thick red-skinned chilli has high pungency and a distinctive fieriness. Local belief is that the smaller the chilli, the hotter it is. Thus, small Guntur chillies are used for heat, while larger ones are used for their taste. Some of the famous dishes using Guntur Sannam are Natu Kodi Kura (spicy Andhra chicken curry flavoured with coconut), Guntur Kodi Vepudu (chicken fry) and Mamsam Pulusu (a spicy mutton recipe).
It accounts for around 30% of India's chilli exports and is mainly traded in Guntur Mirchi Yard which is Asia's largest dried red chilli market. S4 type is the most popular type of Guntur Sannam. Teja chilli is another fine variety of the same.
Pungency: 35,000-40,000 SHU
ASTA Color value: 32.11
Capsaicin:  0.226%
33) Byadgi/Bedgi Chilli: Karnataka
The Byadagi or bedgi chilli botanically belongs to the Capsicum annuum family. This famous chilli of Karnataka is named after the town of Byadgi in Haveri district of the state. Byadagi chilli is of two sub-varieties- the Kaddi and the Daggi. The Kaddi Byadagi chilli is deep red in colour and has mild pungency and a wonderful aroma. It is used in the famous Karwari Fish Curry. However, it is the Byadagi daggi variety which takes the cake! This long and slightly thick chilli is famous for its colour and is one of the brightest colourant chillies in India, while also having extremely less heat and pungency. In fact, its oleoresin is used to preparation of nail polish and lipsticks! In food, it is used in Udupi cuisine as well as making famous dishes like Bisibhele bath, sambar and chutneys. In dried form, it crumbles like ashed paper and is used like paprika and in flaked form.
The famous Byadagi chilli got a Geographical Indication tag in 2011.
This chilli is also grown in Goa and is known as Volanchi (wrinkled) chilli, Ghanti (from the ghats) or Xepda (bushy end tailed) chilli there.
SHU: Nil
ASTA colour value: 156.9
Capsaicin: Negligible
34) Bangalore Torpedo Chilli: Karnataka
Bangalore Torpedo Chili is a Cayenne-type chilli and comes from the Capsicum frutescens family. It is a long chilli with refreshing green colour and a playful twist at its tip. Upon ripening, it turns bright red. It is an extremely hot chilli.
35) Edayur Chilli: Kerala
Kerala's Edayur chilli is a GI tagged chilli of Capsicum annuum species. It is a roughly triangular berry with a smooth texture. In unripe stages, it is green in colour and long in shape and turns shorter and redder as it ripens. The green unripe chilli is fried to make a delicious fried chilli condiment for everyday meals in Kerala's Edayur region. The ripe chilli on the other hand is split and soaked in salted curd for a day and then sun-dried to make Mulaku Kondattom. This delicacy can be stored for more than a year and is also used as gifts. The chilli also has high rutin content and is used in pharmaceuticals.
Pungency: 3097.13 (unripe)- 1968 (ripe)
ASTA Color Value: 22.9
Capsaicin: 0.008-0.028 
Well, so these are the various types of chillies in India. Hope your mind is as boggled as mine was after I first researched these varieties. Now go ahead and paint your palate red by trying out some of these brilliant packets of heat!