Sandila ke laddu is a realisation of my childhood fantasy of travelling in local trains across India and tasting the regional specialties in each railway station. I think I got this fantasy from reading Satyajit Ray's Feluda series, where Feluda and his cousin Topshe would travel to distant places in India via trains and eat local delicacies all the time. I don't know why the experience of eating local delicacies during railway travel is so exciting. Maybe it is the rush of finding something novel and delicious at the station and buying it quickly before the train leaves the station. Or maybe it is looking at a new town and wondering what life there is like- and then grabbing a slice of that life-experience through a plate of the food the town offers.
Because food, I believe, is all the love a community has to give, represented on a plate.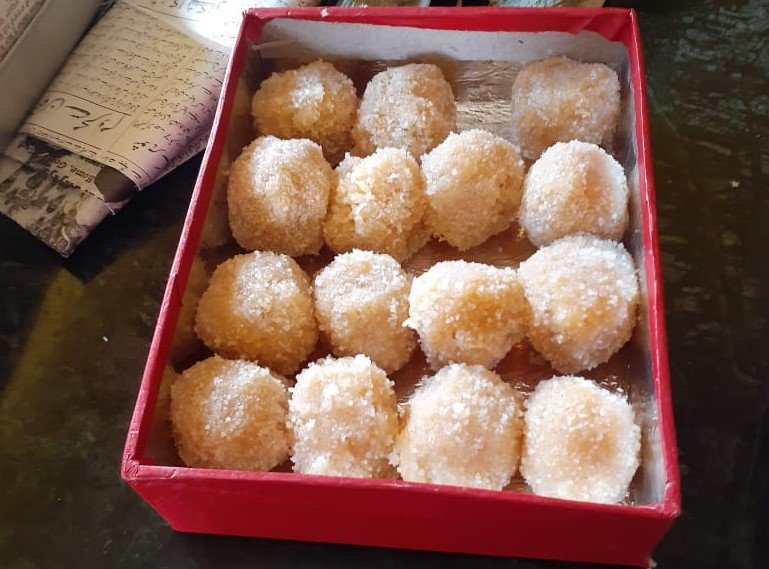 My railway travel food fantasy is yet to come true, but hearing about Sandila ke laddu grabbed my attention immediately because it is one of the local delicacies sold in the railway station of a small town called Sandila in the heart of Uttar Pradesh. 
Luckily, I was fortunate enough to meet Mr. Arun Bahadur whose family has lived in Sandila for generations. He lived in Sandila in the late 1950s and early 1960s and has been visiting his hometown on and off as he travelled through the rest of India for work. With his help, let's take a quick peek at these sugary laddu delights which have become quaint little stories for Sandila residents and travelers alike.
A Little Town Called Sandila
Sandila is a small town located in the Hardoi district of Uttar Pradesh. Located almost in the middle of the state, it is around 56 km away from the state capital of Lucknow. Well-connected to major cities by road and rail, the city sees a number of travellers everyday. It has also become famous for its local industries of zardosi work and sweets. Historically, it is also important as the hometown of Begum Qudsia Aizaz Rasul, the only Muslim female to be part of the Constituent Assembly which drafted the Indian Constitution.
Following are some glimpses of Sandila captured by Arunji.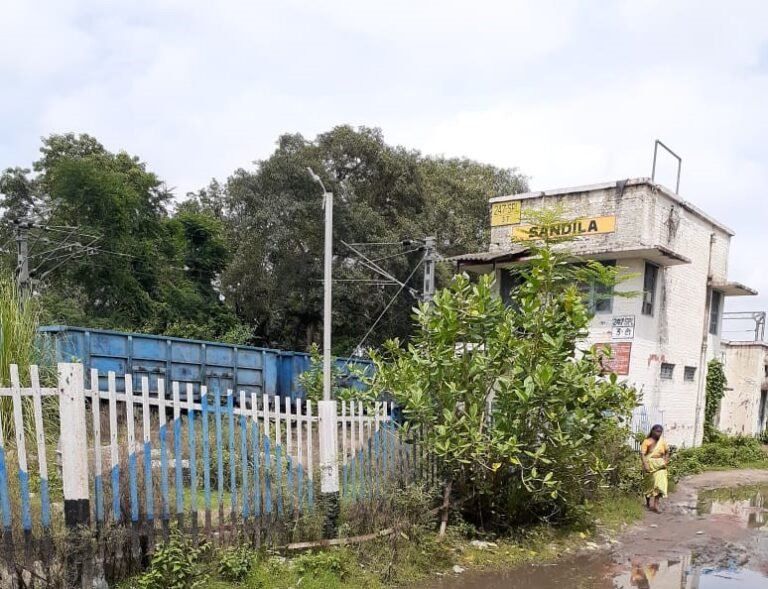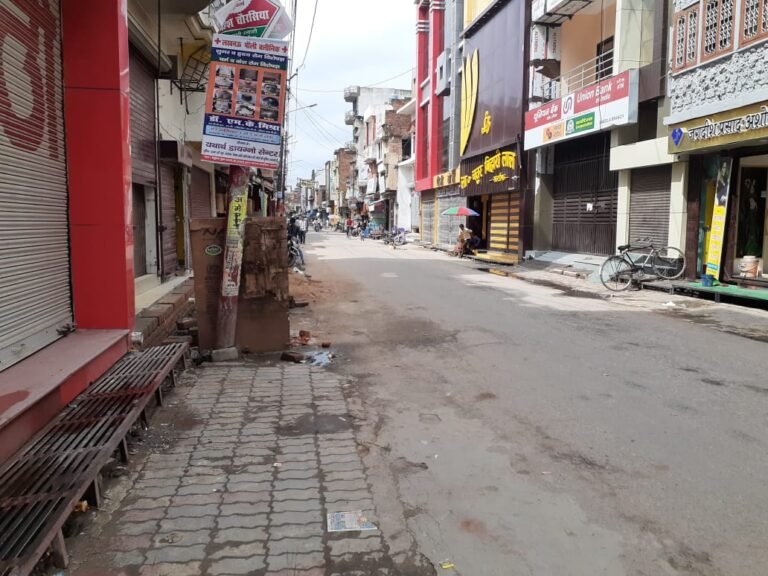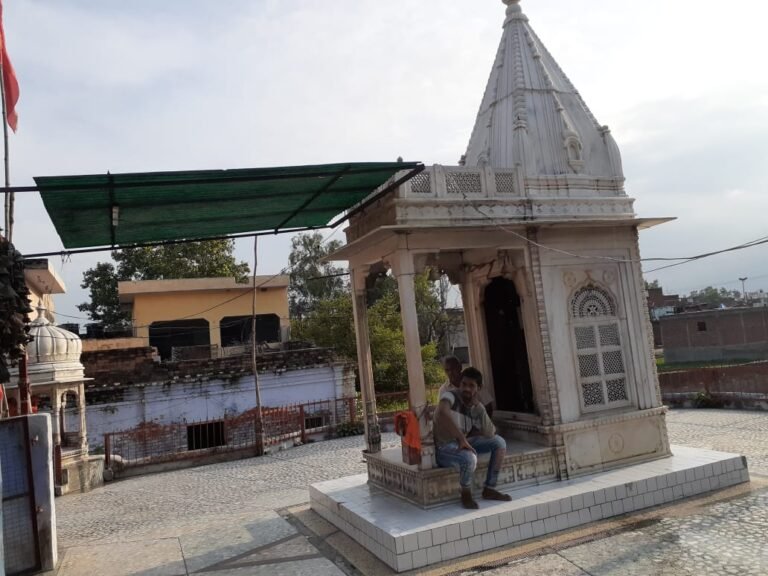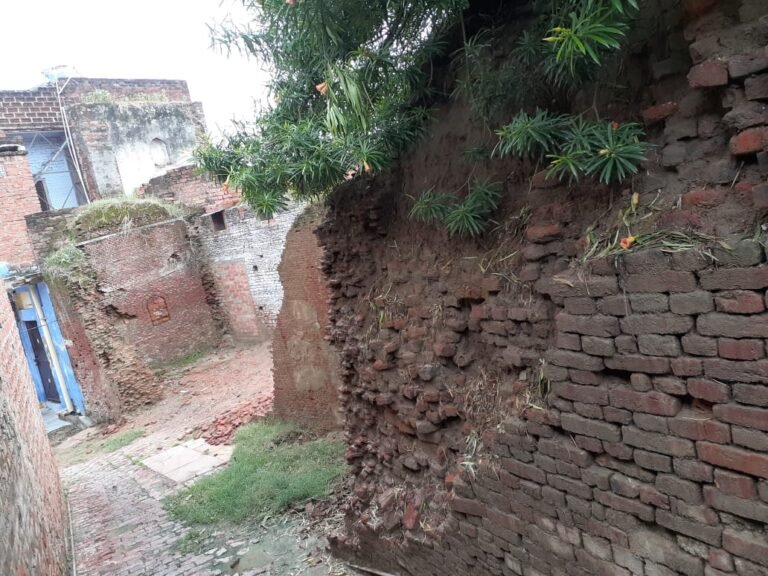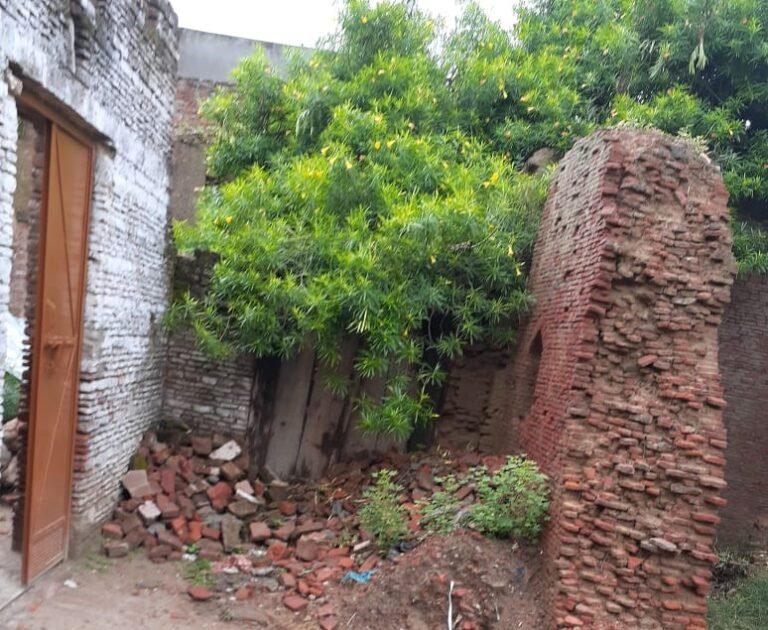 Royalty, Nobility and Some Laddus
Local legend says that the town was named after a sage called Rishi Shandilya who founded the city. More recent historical records claim that the town was founded by the Arakhs and named Sital Purwa. After its establishment, the town saw a number of clashes between various dynasties of the Delhi Sultanate and Mughals. However, it was never the centre of any government. It was only during Akbar's reign that it became the seat of a pargana (Mughal administrative unit), and the town saw the growing influence of the talukdari system. Several powerful local families who owned land, like that of Raja Durga Prasad, emerged from this system.
These families of royalty and court nobles also had chefs who catered to the varying whims and fancies of their masters and created new dishes everyday. From among these dishes emerged the famous Sandila ke laddu, which started as a household favourite and soon spread its sweet notes throughout the city.
Given above is the recipe for the Sandila laddu by a resident of Sandila. Sandila ke laddu are primarily laddus made of crushed boondi. Traditionally, they gained their fame from using fresh chana dal besan (flour of split bengal gram) ground by hand, mixed with pure ghee and sugar. But due to rising costs of raw material, and the comparatively low prices of the laddu, this is no longer possible.
However, the basic recipe remains the same. Boondi is made from a batter of split bengal gram flour. It is then cooked in sugar syrup till it absorbs the syrup. Once the sugar syrup-filled boondi cools down, some powdered sugar is sprinkled on it and mixed thoroughly. The boondis are then crushed with hands and shaped into a sphere, giving the laddu its characteristic shape. The last step is to roll the newly-formed laddoo onto the powdered sugar, giving it a thin covering of powdery sugar-snow.
A number of decades old, Sandila laddu are almost omnipresent within the Sandila community. They are served during festivals, weddings and even on normal days when people feel like having something sweet.
An even more romantic tryst with the laddus is on trains travelling from Punjab to Howrah. As they stop momentarily at the Sandila station, travelers look forward to hearing the familiar calls of Sandila Laddu sellers. Seeing the laddus packed in intriguing, rustic round clay pots, sealed from the top with a layer of newspaper and red cellophane paper gives one an indescribable delight. The experience of hailing a Sandila ke Laddu vendor carrying a bunch of these hanging laddu pots adds to the taste of the laddu.
What's Unique About Sandila Ke Laddu?
The biggest uniqueness factor is the history and nostalgic factor of Sandila ke laddu. The laddus make up the childhood of many who have grown up in the lanes of Sandila and as well as those who have frequently travelled through the town. The laddus have been a constant presence in a world of constant chaos and flux, and they give a sense of reassuring stability to those who have known them through decades.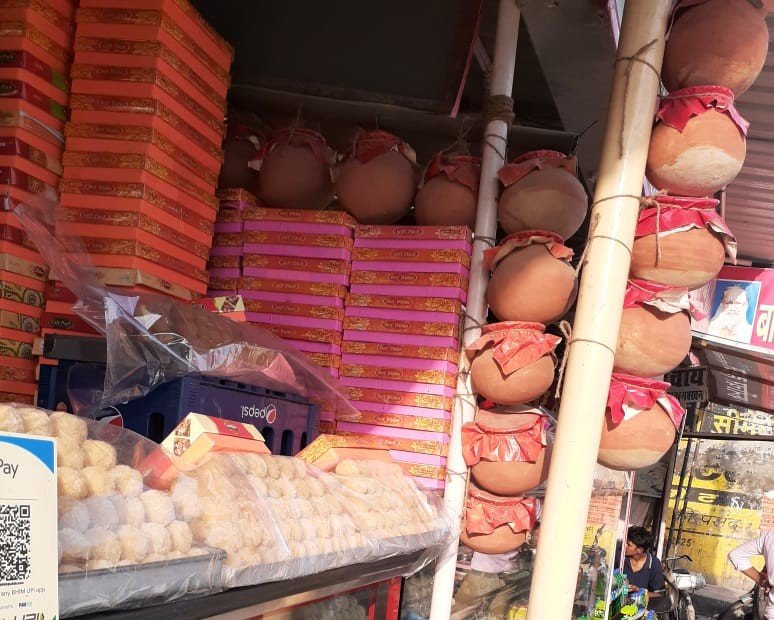 Another unique point, as highlighted above, is the experience of buying these laddus at the railway station and excitedly opening the clay pot to find delicious laddus inside. In a world of high-end plastic and glass packaging, this rustic experience is an exciting experience for many.
As Mr. Arun shares, the laddus have a unique quality of not drying out in the refrigerator even after it is stored in it for more than ten days. This is attributed to the Sandila laddu's outer layer of powdered sugar coating, which retains the moisture inside.
Where Can You Buy Sandila Ke Laddu?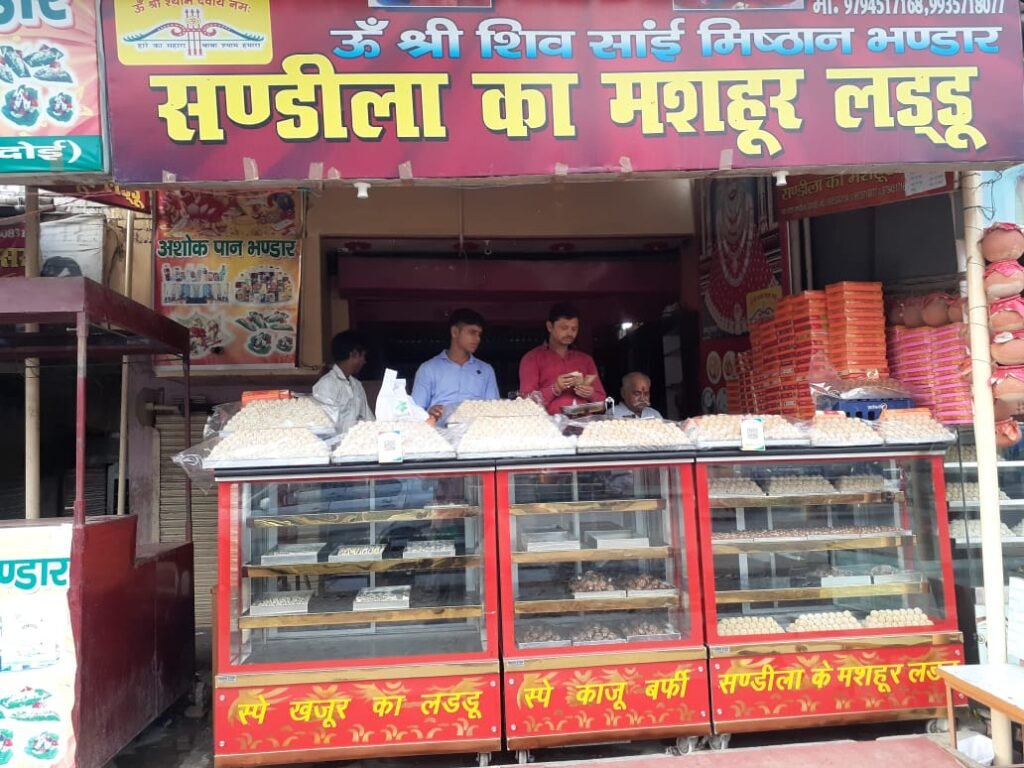 While one can find Sandila Ke laddu almost everywhere in the town, the best quality laddus are found in older shops like Babulal halwai in the Sandila main market and Om Shri Shiv Sai Mishthan Bhandar near the Sandila Bus Stop on the Lucknow Hardoi main road.     
***
And that brings us to the never-ending saga of Sandila ke laddu. Anytime you happen to pass by this area of Uttar Pradesh, don't miss the chance of having these sugary globules of goodness and experience a hit of rustic nostalgia!
From The Food Memories Of: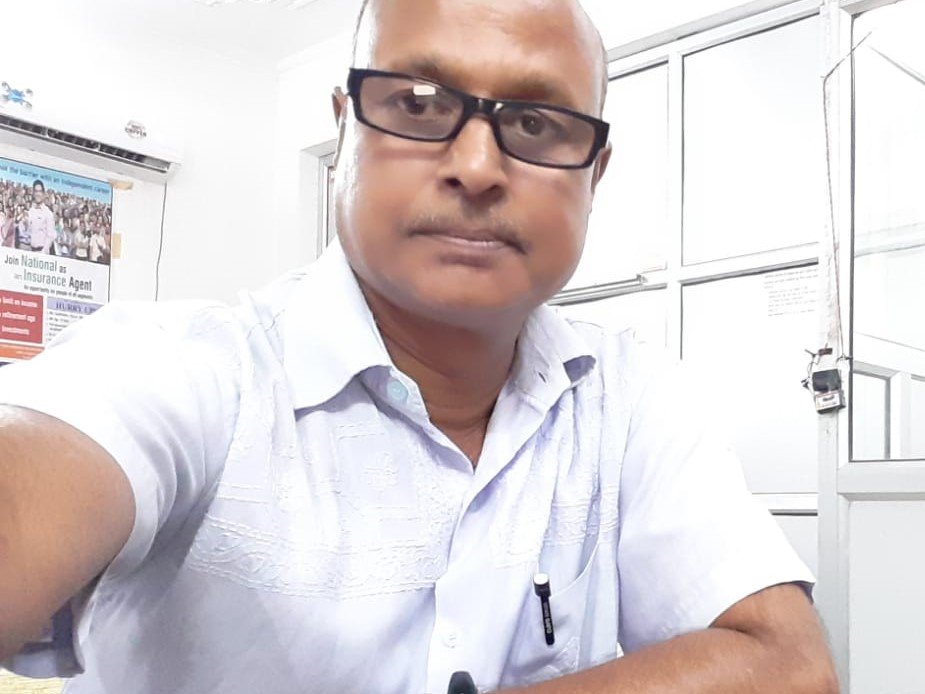 Mr. Arun Bahadur is a former resident of Sandila, Uttar Pradesh. His family has been living in Sandila for generations and he has seen the story of Sandila ke Laddu unravel since the 1960s.