Sanjhi Art ~Sandhya (Dusk) ~ Handcut Stencils
Sanjhi art is one of the traditional Indian art form which, like the Ganjifa artform, has been declared endangered by the Government of India. Once a popular folk artform 400-500 years ago, it is now practiced only by a handful of artisans. In search of this elusive artform, we visited artisan Ram Soni, one of the few exisiting artisans who still practice this traditional artform. His family shifted from Uttar Pradesh to Alwar, Rajasthan and this is where we got the opportunity to meet him and discuss Sanjhi Art.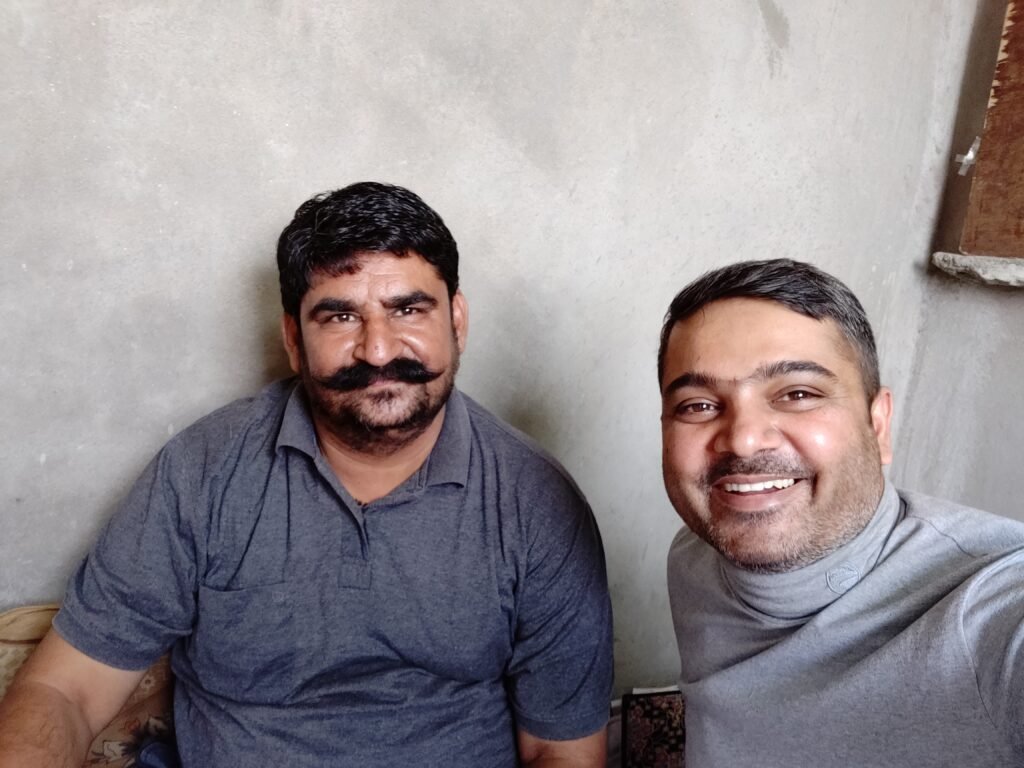 To understand the essence of Sanjhi art, you need to immerse yourself mentally into the land and culture of olden Vrindavan and Mathura. It is said that the concept of Sanjhi painting started with Radha who would decorate her house and place of worship with beautiful rangolis in order to attract Lord Krishna. For this, she would use natural materials like flowers and colored stones. Upon seeing her, other gopis started doing the same. As the rangoli grew in intricacy and complexity, the need for stencils was felt. And from here started the tradition of making stencils which would create beautifully vivid and colorful rangolis on ground and even on water.
In 15th and 16th century, this artform saw a revival when Vaishnav temple priests started using elaborately cut paper-stencils to make rangolis for decorating temples. Ustads, after years of training, used their highly refined skills to carefully cut delicate motifs into handmade paper with specially designed scissors. The motifs were inspired by the rasleela and the primary motifs were those of Radha and Krishna. Shown below is one such work done by Ram Soni sir. We did not want the work to get spoilt, hence all images are photographed while they were in their protective plastic layering.
The image above would seem like a pen drawing, but it is, in fact, a traditional Sanjhi Art design on a colored paper. The black color is the dark background on which it was kept for contrast. This was enough for us to get awe-struck, when Ram Soni sir showed us this beautiful paper cutting art where devangagari letters are cut into the paper stencil. Take a look!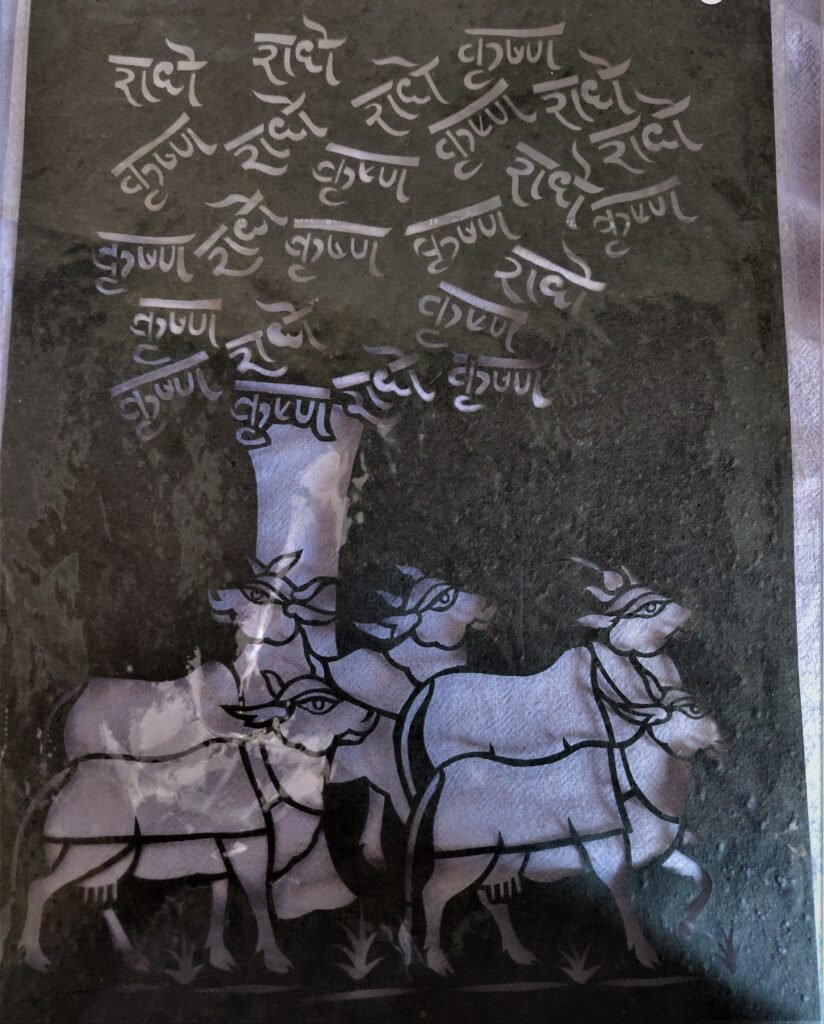 Other motifs included natural objects from their surroundings like peacocks, bullock carts, horses, cows, butterflies and trees.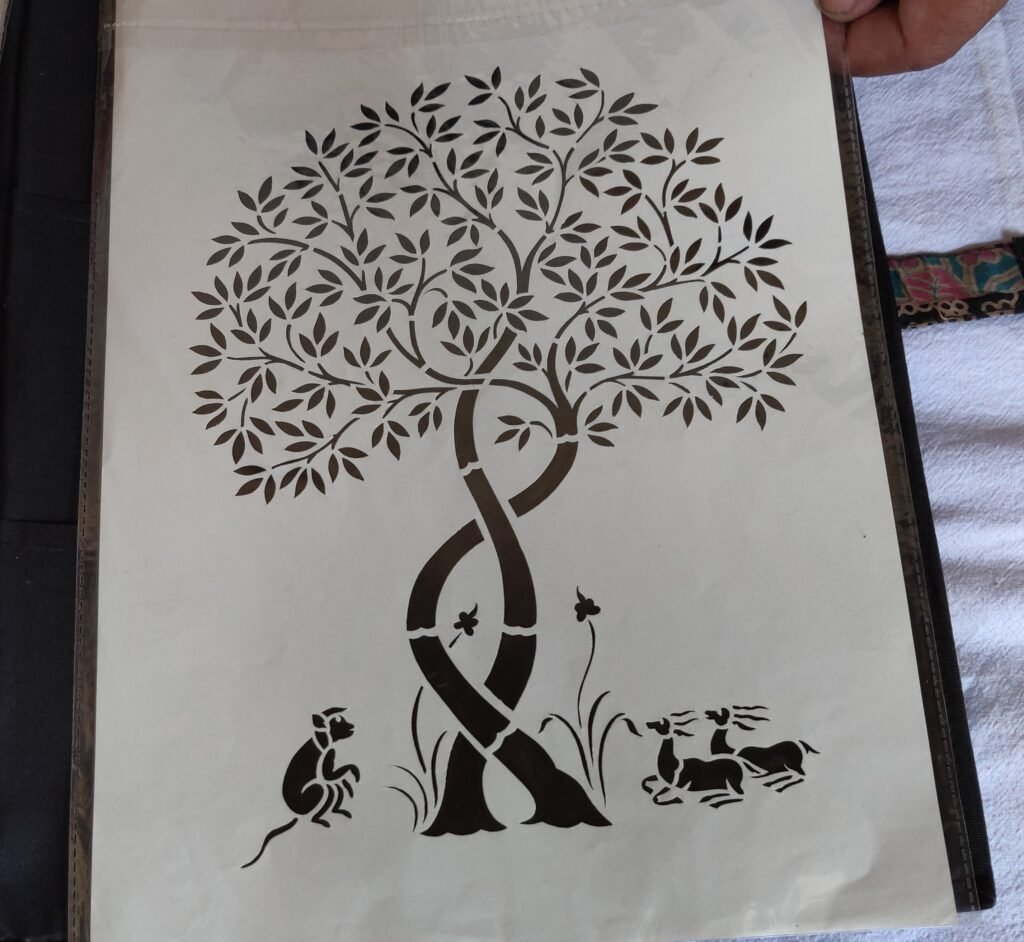 Soni sir told us that after the Sanjhi stencil was created, it was then kept on the ground/water surface and different colors sieved through it. After sieving, the stencil was carefully removed without disturbing the colors beneath it. Once the rangoli was prepared, it was unveiled, with great reverence, along with ceremonial chanting at the time of dusk.
This was the beginning of an extraordinary form of handicraft— named after the time of the day at which it was celebrated 500 years ago— the Sanjhi Art. Of course, some sources also say that the name is derived from sajja or sajawat, referring to the decoration of the temples with this artform.
The most unique aspect of Sanjhi folk art is that extremely intricate designs are cut into paper without the use of any pre-drawn lines to guide the artists. Thus, it takes years of diligent practice for the artists to learn Sanjhi paper cutting art and execute their craft perfectly. Take a look at the Sanjhi art scissors which does all this magic. It is sharp, yet tiny and delicate.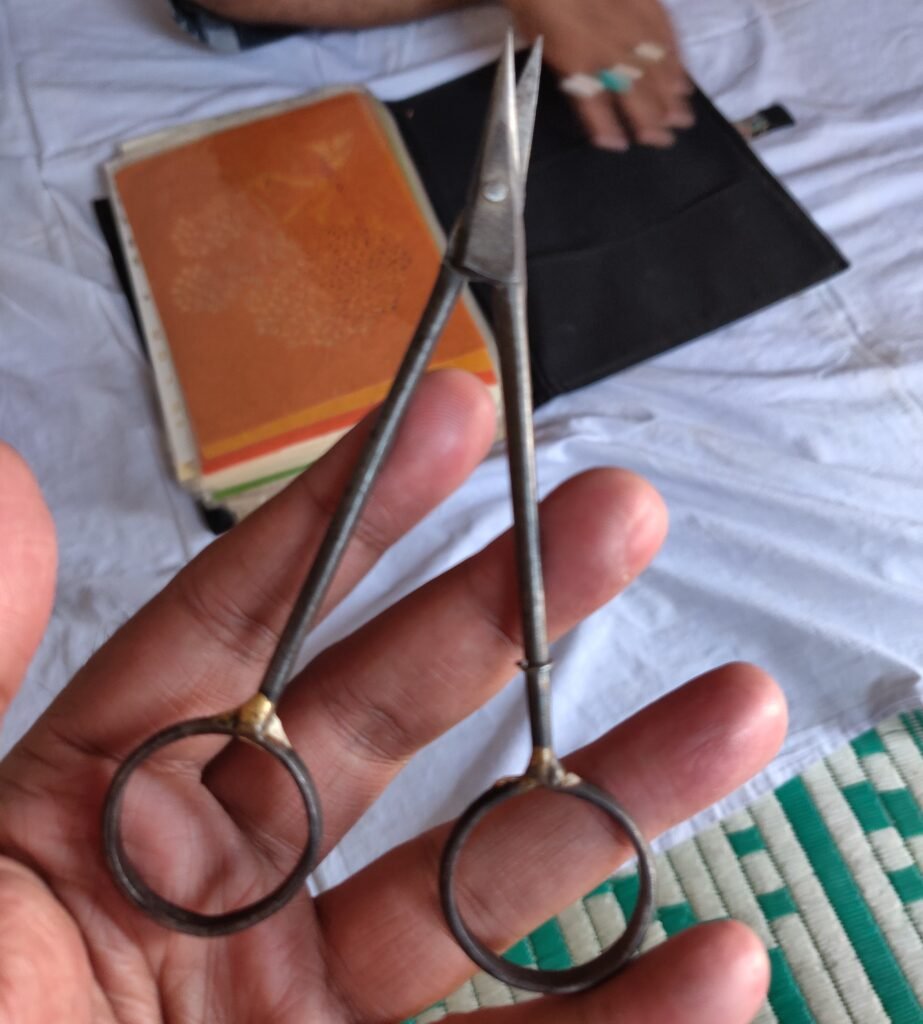 Indeed, when these papercut Sanjhi art designs were used as stencils in Vaishnav temples to decorate the temples with life scenes of lord Krishna, it was said that the skill of the Sanjhi artist was a measure of his love and devotion for Krishna. In Mughal times, the themes of the stencils may have changed, however, the intricacy and vividness remained the same. 
With time, the use of Sanjhi designs declined with modern generations finding little time and value in making daily rangolis. However, an attempt at revival of the Sanjhi art has transformed it from a ritualistic temple artform to an artform used for making home utilities like lamps, curtains, shades, etc. In fact, the artform was used as pictograms in the 2010 Commonwealth games.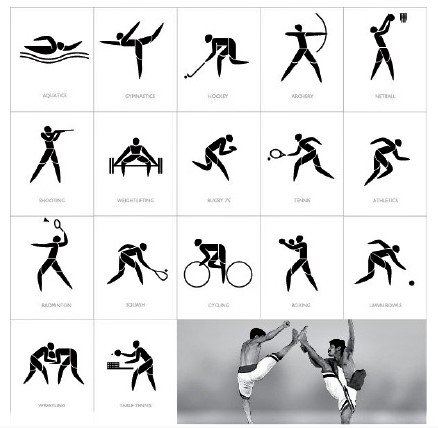 In modern times, Sanjhi artform is hardly known as its original self. In fact according to Ram Soni sir, the few artisans that are left are facing a new challenge altogether. And that is the use of their designs and templates on commercial products without giving any credit or compensation. 
Looking at Ram Soni sir's Sanjhi art work, it is evident that Sanjhi art is too beautiful and too rare a skill to be lost forever. It is extremely fairly priced and we hope that it soon becomes a household name in India.
If you do feel like owning a Sanjhi of your own, feel free to comment your query below and we shall get you in direct touch with Ram Soni sir. In the meantime, take a look at his unbelievably beautiful work below.